Hi, everyone, and Happy Valentine's Day! :)
I'm super sorry that I just sort of disappeared off the face of the blogging earth for a while! :) Last Thursday, we headed out on an almost 8-hour drive to a Rend Collective concert! That's the reason for my long absence. :) I have a ton to share with you guys about that--it was absolutely amazing, and I left feeling so refreshed and just triple-dipped in joy. It was ever so much more than a concert--it was worshiping and learning and growing and being challenged and encouraged in my faith.


But for now, I'm here to share a little something with you guys that's been on my heart today (I shared some of it on my Instagram account, but I wanted to add to it here :)).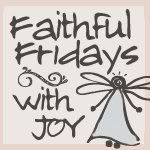 Faithful Fridays is a weekly linky party hosted on my blog. I made it so that Christians could have one special day out of the week (Friday) to share something from their Christian walk on their blog. If you'd like to participate,
write your post, grab the button from the Faithful Fridays page on my blog (so that it will link back here), and come link up at the bottom of this post! :)
*****************************************************************************************
So, with today being Valentine's Day and all, I've been thinking a lot about
love
. :) And what keeps coming to my head is tat, just like His word says, God
IS
love. He made it. He gave it. He's the perfect example of it. He defines it. And guess what? He loves me, and you. So, the God who made love and loves perfectly loves you and me! Enough to endure every bit of the rejection and pain that you and I should have had to deal with because of the sin that puts us at an enemy's position with God. He overcame all that, as painful and torturous as it was, because
He.
Loves. Us.
He still does, day in and day out, unconditionally. His love is the kind that
does
.
He's with us.
Because
He loves
us
. I want to stay in awe of that--I want to approach it with a childlike wonder. It's something to celebrate, more than anything! That's what the Bible means when it talks about the joy of the Lord. When you really know that love, and you rest in it, and return it back to the One who gives it, it infects you, it fills you with this crazy, awesome, amazing joy that lets you know that everything's going to be fine--you don't have to worry. You have every reason to celebrate, in the good times, and also in the bad, because you have a real, true hope for the future. When you really know God's love, you know that it's not the end.
"You love him even though you have never seen him. Though you do not see him now, you trust him; and you rejoice with a glorious, inexpressible joy, for you are receiving the end result of your faith, the salvation of your souls."
-1 Peter 1:8-9


It reminds me of this song--
You bled Your heart out,
Now I feel love beat in my chest,
How wonderful.
You gave Your beauty
In exchange for my ugliness.
How wonderful!
You left Your perfection
And fought for our redemption!
Yes, Jesus loves me,
Yes, Jesus loves me,
How wonderful.
Yes, Jesus loves me!
This is love, You gave yourself!
How marvelous, how boundless,
Is Your love, is Your love,
How wonderful, sacrificial,
Is Your love for me.
Sing for joy!
-"You Bled," Rend Collective


You know what that makes me think? I think we should write valentines to God. I'm not kidding, really. You hear stuff like "Jesus is my valentine" when people don't have someone special to spend their V-Day with. But when we think about it, isn't Jesus the best valentine ever? I mean, He's Jesus. The Son of God. Emmanuel, God with us. How much better does it get? He's all we ever need, and yet we toss His love out as second best, because we want someone to give us flowers.


People, are we missing it? God says that His love is enough. I believe Him. I believe what He says--that the fact that
yes, Jesus loves me,
is the most important, life-changing thing ever.
I've found a love greater than life itself,
I've found a hope stronger and nothing compares.
-"I've Found a Love," Bethel Music
I won't fear what tomorrow brings.
With each morning, I'll rise and sing.
My God's love will lead me through.
You are the peace in my troubled sea,
You are the peace in my troubled sea!
-"My Lighthouse," Rend Collective


And I think His love is something that should compel us to get out there and love other people the same way--regardless of what they've done or who they are, the way Jesus does. If we experience this love that changes life, that is greater than life, worth surrendering your life for, and we respond by staying in our same old routines, are we really getting it? We need to let this sink in. We need to let it change us and move us, like the Bible talks about, from the smallest things like how we treat our closest family members, to the biggest things like what we're going to do with our lives. We were God's enemies by nature. Destined for rejection. And pain. And punishment. And He came and just took all that onto Himself, because He chose to love us. I think our response to that should be to imitate that love back to Jesus, and to others. If we've received this grace and this crazy amazing love and we really, really get it--isn't dishing that out to others the only logical, right response?
"But God demonstrates His love for us in this: While we were still sinners, Christ died for us."
-Romans 5:8


"This is how we know what love is: Jesus Christ laid down his life for us. And we ought to lay down our lives for our brothers and sisters. If anyone has material possessions and sees a brother or sister in need but has no pity on them, how can the love of God be in that person? Dear children, let us not love with words or speech but with actions and in truth."
-1 John 3:16-18


"If I speak with human eloquence and angelic ecstasy but don't love, I'm nothing but the creaking of a rusty gate. If I speak God's Word with power, revealing all his mysteries and making everything plain as day, and if I have faith that says to a mountain, "Jump," and it jumps, but I don't love, I'm nothing. If I give everything I own to the poor and even go to the stake to be burned as a martyr, but I don't love, I've gotten nowhere. So, no matter what I say, what I believe, and what I do, I'm bankrupt without love."
-1 Corinthians 13:1-7a



I think another thing to remember is that because God
IS
love, "love" without God in the equation is a fake, empty love--not really love at all. I think we all know those verses that say--
"Love is patient, love is kind. It does not envy, it does not boast, it is not proud. It does not dishonor others, it is not self-seeking, it is not easily angered, it keeps no record of wrongs. Love does not delight in evil but rejoices with the truth. It always protects, always trusts, always hopes, always perseveres."
-1 Corinthians 13:4-7


What if we substituted all that love for Jesus? Jesus is patient, and Jesus is kind. He does not envy, does not boast, and is not proud. He is not easily-angered, and He doesn't keep a record of wrongs. He always protects, always trusts, always hopes, and always perseveres. I've seen that in action, folks, and I want to live that out.
So, that's my little tidbit to share with you guys. I feel like I'm finally truly starting to grasp what God's love really, really, truly is. And I love it. It's beautiful. I want more of it in my life. I'm falling in love with it. :)
Lord, I thank You for Your love. I thank You that You're the most amazing valentine, ever. Thank you for your love. I'm in awe of it. You're my Creator and my King, and yet you endured all the disgrace and despair and rejection and pain a person could ever face, just so I could have a relationship and a life with You. It humbles me and just blows me away. You just chose to love me, out of kindness. I did nothing, nothing at all for you--in fact, I've hurt you over and over again! And yet you've never given up on me. Keep me near to your heart, Lord, and help me to walk in Your love always, and to imitate it. I want your love to live in me. This is my prayer.
God bless you guys and have a great weekend! :)
Joy :)