Hi, everyone! :) I'm sorry for my post being a bit late in the day today. We got out to pick up some dance shoes, and we've been busy all day! :)
Speaking of dance, some of you may have known from my Instagram that I came down with the flu at the start of this week, and I was really worried about that, because I was supposed to be performing in the Chinese New Year festival with my Chinese dance class this Saturday (tomorrow). Well, thank you for all your prayers, because I'm doing much, much better and planning to head out for the performance tomorrow! :D Thank You, Jesus. :) I love seeing Him come through on prayers like that. It just proves further that we can trust Him! :)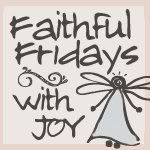 Faithful Fridays is a weekly linky party hosted on my blog. I made it so that Christians could have one special day out of the week (Friday) to share something from their Christian walk on their blog. If you'd like to participate,
write your post, grab the button from the Faithful Fridays page on my blog (so that it will link back here), and come link up at the bottom of this post! :)
***************************************************************
What is a Christian?
How do you become one?
Why should you be one?
What does a Christian do?
"Christian" is a term that gets tossed around a lot, but is not always understood or used or lived out right, the way it was supposed to.
What I'm about to tell you is what Jesus said a Christian is. And He should know, because He's the one who started the first Christians off.
You see, being a Christian is all about Jesus. That's it. He's everything.
Jesus was Immanuel, God with us. He was our Maker walking along in the dirty, dusty streets with us, forgiving all the wrongs we had sinned against Him and His perfect law (it's His universe don't you think He gets to make the rules?), reaching down and healing and dusting off the ugliest and dirtiest and most beat up people. The act of God giving His Son, Jesus, to the world to be slain as a sacrifice for our sins was the only way we could have a relationship with Jesus. That was the only way someone could ever be a Christian.
It started when Jesus called the people to Him.
"Walking along the beach of Lake Galilee, Jesus saw two brothers: Simon (later called Peter) and Andrew. They were fishing, throwing their nets into the lake. It was their regular work. Jesus said to them, "Come with me. I'll make a new kind of fisherman out of you. I'll show you how to catch men and women instead of perch and bass." They didn't ask questions, but simply dropped their nets and followed. A short distance down the beach they came upon another pair of brothers, James and John, Zebedee's sons. These two were sitting in a boat with their father, Zebedee, mending their fishnets. Jesus made the same offer to them, and they were just as quick to follow, abandoning boat and father."
-Matthew 4:18-22
Because that's what Jesus did. He simply called people to follow Him, and they did. They came from all kinds of backgrounds. They usually weren't big or important, but they could be. They were just a bunch of people that followed Jesus without turning back. Those were the Christians. They didn't just change the way they lived their lives, they gave their lives to God completely, to do with what He wanted, because they knew it would be good. Then, God gave them a new spirit. He changed their heart. He changed the way they thought. And that changed the way they lived.
"Don't copy the behavior and customs of this world, but let God transform you into a new person by changing the way you think. Then you will learn to know God's will for you, which is good and pleasing and perfect."
-Romans 12:2
That's not to say that they didn't make mistakes after that. Of course they did! It was hard. It was a struggle sometimes, living for Jesus, especially for those first Christians, because there was a lot of anti-Christian hate going around. No one liked Christians. It wasn't popular to be one. And yet, every day, hundreds of people kept turning to Him. We find evidence of this everywhere, in the Bible, and in other non-Biblical historical records. This Jesus man was changing everything.
And when he was put to death, crucified, just like He prophesied, they were devastated. And then three days later, just like He had said, He rose from the dead. His corpse was nowhere to be found. He came and appeared to a great group of people. This stuff wasn't cleverly fabricated. It was so wide-spread believed--how could it be? People that had known Him (as well as people who hadn't) were willing to die horrible deaths rather than denounce Jesus. Why would they do that for something that was just a big hoax that they would get nothing from?
Because, you see, everyone lives for something. Buddhists live for Buddha. Muslims live for Allah. Atheists live for themselves. We all have a purpose in life, even if it's not really defined, or we don't even really know what it is. Most people just want to be happy and feel satisfied. Some want a big house, a fancy car, or a big, important job. Whatever your "religion," there's something you're living for. We all have beliefs.
But Christians are living for Jesus. We're living for something bigger than just us. I mean, if you really believe that God made us, then our purpose is to live for Him, isn't it? That's all that matters. That's what we're created for. We were created to live eternally in a dazzling, amazing, incomprehensible relationship with our Maker, but when the first people sinned, we were torn apart. But still, one day, when this life with all its parties and jobs and cars and schedules has passed away, we will stand before God, and how we spend eternity will rest on whether or not we followed Jesus. If we did, then we'll have our reward, and we'll never taste sorrow or pain or any of those things. We'll be living in pure joy, because we'll be in the living presence of God. If not, we'll have to spend eternity in hell.
"They will be punished with everlasting destruction and shut out from the presence of the Lord and from the glory of his might...."
-2 Thessalonians 1:9
"This is how it will be at the end of the age. The angels will come and separate the wicked from the righteous and throw them into the blazing furnace, where there will be weeping and gnashing of teeth."
-Matthew 13:49-50
And maybe that's the reason why we can't find true joy or satisfaction anywhere else. Maybe that's why we find ourselves empty and broken whenever we try to find our purpose elsewhere. Because only when you're filled with Jesus does life really make sense. Only when you start living radically, selflessly for Him, with abandon, like you were created to, do you really experience joy.
"Then Jesus said to his disciples, 'If any of you wants to be my follower, you must turn from your selfish ways, take up your cross, and follow me. If you try to hang on to your life, you will lose it. But if you give up your life for my sake, you will save it. And what do you benefit if you gain the whole world but lose your own soul? Is anything worth more than your soul? For the Son of Man will come with his angels in the glory of his Father and will judge all people according to their deeds."
-Matthew 16:24-27
That's what a Christian is. It's someone who's decided that their whole life is all about Jesus. It's His. It's about following Him. That's their purpose. That's who their living for. It's not a title. It's not a label. It's not a style. It's not a flippant decision to lightly hold on to. It's not just a frail belief. It's a life-changing, life-altering, life-bettering decision. What is your life about? What are you going to live for? Who are you going to live for?
And how do you become a Christian?
Oh, my friends, that's the best part.
All other religions and proposals to "fix your life" or "climb the ladder" require you doing something, giving something, working, earning. But God simply says, "Come to me." His grace is enough. He loves us unconditionally, even when we don't love Him back. No strings attached.
"But God showed his great love for us by sending Christ to die for us while we were still sinners."
-Romans 5:8
That's the whole reason Jesus came here--so that we wouldn't have to do anything except trust in Him, ask for forgiveness of our sins, and just surrender it all to Him. We don't have to work to earn it. We don't have to climb the proverbial ladder up to God. We don't have to follow a bunch of steps. It's just a matter of telling Jesus that you want to be forgiven for the things you've done that are against His Word, and that you want to live for Him, and meaning it, from your heart.
And then, the adventure begins. :)
"For you have been born again, but not to a life that will quickly end. Your new life will last forever because it comes from the eternal, living word of God."
-1 Peter 1:23
***************************************************************
I was really excited to write this post, and I enjoyed it. I hope you guys got something out of it. :)
God bless you guys and have a great day! :)