Hey, everyone! :) I feel like it's been forever since I've blogged. For some reason, my computer wasn't letting me access Blogger. It was so frustrating, but I have it straightened out now, I think (thank You, Jesus)! :)
It's time again for Faithful Fridays! :) I'm looking forward to sharing today's post with you. :)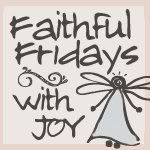 Faithful Fridays is a weekly linky party hosted on my blog. I made it so that Christians could have one special day out of the week (Friday) to share something from their Christian walk on their blog. If you'd like to participate,
write your post, grab the button from the Faithful Fridays page on my blog (so that it will link back here), and come link up at the bottom of this post! :)
*****************************************************************************************************
Some days are just crazy for me. A lot of things sort of come crashing down at once, and my mind's whirling, and I don't really know what to do or how to handle it. Dealing with worries, spiritual struggles, disappointments, fears, problems, responsibilities, and just trying to balance it all and keep in step with God throughout the day can put me in a tizzy and leave me spinning.
"So I say, let the Holy Spirit guide your lives. Then you won't be doing what your sinful nature craves.

The sinful nature wants to do evil, which is just the opposite of what the Spirit wants. And the Spirit gives us desires that are the opposite of what the sinful nature desires. These two forces are constantly fighting each other, so you are not free to carry out your good intentions."
-Galatians 5:16-17
But, here's the thing: God's got this.
"What shall we say about such wonderful things as these? If God is for us, who can ever be against us?"
-Romans 8:31
One thing I love about Christmas is getting new devotionals (and I'm looking forward to sharing them with you)! :) I got two this year: the Duck Commander devotional, and the Teen-to-Teen 365 Daily Devotions (by Teen Girls, for Teen Girls). I love both of them, but one I read recently in the Teen-to-Teen one really stuck with me. I love it, and I wanted to share it with you guys today. :)
Crazy Love, Crazy Quiet, Crazy Life
(By Hannah Thompson, 15, Leesburg, GA, Sherwood Baptist Church, and Sherwood Christian Academy, Albany, GA)
"Above all, put on love--the perfect bond of unity."
-Colossians 3:14
"Crazy: that's the only way I can describe life as a high school sophomore. Sometimes I want to sit down and cry with papers due, friend problems, tests to study for, church, and about a bajillion other things I think I need to accomplish right this second. However, I'm taking these few moments to stop and think. One of my favorite songs is 'Love Like Crazy' by Lee Brice (written by Doug Johnson and Tim James and released by Curb Records, June 2010). The lyrics tell the story of a couple getting married out of high school and still being together fifty-something years later. My favorite part of the song is when he sings, 'Never let your prayin' knees get lazy, and love like crazy.' Now, it's a little weird walking around saying, 'I love youuu!' to every person you meet, but the little things we do really express our love toward them. Love others like crazy. I think we are all used to a little craziness in a schedule, but why not go crazy with loving others, too? The verse above says, 'Above all, put on love--the perfect bond of unity.' Perfect unity in my crazy life sounds pretty great. Also, as I'm thinking through my crazy moments, I think of my crazy quiet moments with God. Psalm 46:10 says, 'Stop your fighting--and know that I am God.' When I sit still and talk to my Daddy, everything floods into my head. Friends, the stress over school, my cousin being deployed, and me getting braces for a third time, etc. They all just go bam in my head. I can't even sort out my thoughts! But, the thing is, God knows. He knew all the craziness before I ever throught it. I encourage you, teen to teen, to stop and do a couple of things. Be crazy in love. Have crazy quiet moments. And keep on living your crazy life. 'Cause He promises us that this is only a season of craziness."
I love everything about this. Jesus isn't kidding or suggesting it lightly when He tells us over and over again to love others. That's the next most important thing to loving God, He says! It doesn't have to be moving to another country or selling everything you own at the moment, necessarily. It can be shooting a text or an email to that girl you don't always get along with, just to start a nice conversation and be her friend. You don't know why she acts the way she does. She might need you. It may be making the new person feel welcome. It may be forgiving someone who's hurt your feelings, and being kind to them, instead of heaping on the guilt. It may be offering to do a bunch of chores for your parents without them asking, just to make their lives easier, because you know if our lives are crazy, their lives are crazier!
And when we do these things in the love of Christ, being the hands and feet of Jesus, we draw close to Him. We work toward that "perfect bond of unity."
And taking time to just sit down and spill everything out before God is so, so important, too. Lay it all out before Him; surrender it. He can do so much with your mess. He can turn it into a message for you and all the world to see and be changed by.
So, love like crazy, have crazy quiet moments with God, and yes, keep faithfully living your life out for God, following His lead, even if it's crazy at the moment. He's not going to leave you hanging. :)
God bless you guys and have a great day! :)
Joy :)