Hi, everyone! :) Hope you've all been having a good week! :) We've come down with strep throat, but we're getting better. :) I tried to get this post on last night, but our internet stopped working, so I couldn't. :/ But I'm here today! :)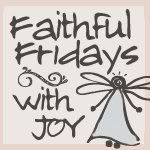 Faithful Fridays is a weekly linky party hosted on my blog. I made it so that Christians could have one special day out of the week (Friday) to share something from their Christian walk on their blog. If you'd like to participate,
write your post, grab the button from the Faithful Fridays page on my blog (so that it will link back here), and come link up at the bottom of this post! :)
**********************************************************************
I was reading in my little devotional book (His Princess--it's a great one and I highly recommend it) and it talked about how if you were given a tiny, fragile newborn baby girl, you'd treasure and protect her with all of your being, wouldn't you? You'd consider her precious, and you'd do anything to take care of her, wouldn't you? Would you leave her out in the cold on her own? Would you desert her? Make her fend for herself? I don't think you would.
"So if you sinful people know how to give good gifts to your children, how much more will your heavenly Father give good gifts to those who ask him."
-Matthew 7:11
And then it talked about how our hearts are the same way.
I think this is especially true for us as teens. Our hearts are fragile. We're in a shaky stage of life. It's rough. We're rowing upstream against the current in a culture that's drifting complacently downstream.
"

Therefore, since we are surrounded by such a huge crowd of witnesses to the life of faith, let us strip off every weight that slows us down, especially the sin that so easily trips us up. And let us run with endurance the race God has set before us.

We do this by keeping our eyes on Jesus, the champion who initiates and perfects our faith. Because of the joy

awaiting him, he endured the cross, disregarding its shame. Now he is seated in the place of honor beside God's throne."
-Hebrews 12:1-2
God's placed a heart in us for a reason and that's to worship Him, to have a relationship with Him. And when we accepted Him as Lord of our life, He completely washed that heart clean from the sin it had taken on before. We have a new, pure, vibrantly alive heart within us and we have to protect it! I'm like a fragile, newborn baby girl in my Heavenly Father's arms--if I'm separated from His love and care, my heart will suffer. I can't make it on my own!
"Create in me a pure heart, O God,
and renew a steadfast spirit within me."
-Psalm 51:10
That's why it's so important to seek God all. the. time. Constantly. Stay in touch with Him throughout your day. My mind's like a pinball machine. It's all over the place--bing-bong-bing-bing-bong. It's so important that I read my Bible, stay connected to God throughout the day through prayer, and keep feeding my faith. It's so important that I seek God in the morning when I get up, throughout the day, and into the evening. All the time.
"Rejoice always,
pray continually,
give thanks in all circumstances; for this is God's will for you in Christ Jesus."
-1 Thessalonians 5:16-18
Seek God all the time; in the morning, throughout the day, and in the evening, because He is everything! This whole life is His, so give your day's plans and expectations to Him and let Him order your steps.
God bless you guys and have a great weekend! :)
Joy :)