Hellloo, everyone! :) I hope you all had a great New Year's Eve/Day! :) We celebrated New Year's Eve by staying in, chilling out, and watching It's A Wonderful Life as a family. :) Then, at midnight, I played the song "Praise Like Fireworks," because that's an awesome way to start of the new year. :) On New Year's Day, we went to see the new Disney movie. I absolutely LOVED it! It was so adorable. It would probably have to be one of my new favorite Disney movies. :)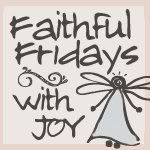 Faithful Fridays is a weekly linky party hosted on my blog. I made it so that Christians could have one special day out of the week (Friday) to share something from their Christian walk on their blog. If you'd like to participate,
write your post, grab the button from the Faithful Fridays page on my blog (so that it will link back here), and come link up at the bottom of this post! :)
**************************************************************************************************
I've been reading the book Crazy Love by Francis Chan, and it's got me thinking.
You know how there's this case of lukewarm Christianity going around? Sometimes we just get complacent. We forget. We forget how crazy God's love is. And that kind of puts us on the road to not loving God as much. Our love for God springs out of His love for us.
I want to keep reminding myself of that.
"The word of the

Lord

came to me, saying,
'Before I formed you in the womb I knew you,
before you were born I set you apart;
I appointed you as a prophet to the nations.'"
-Jeremiah 1:4-5
Read that over and over again. The God who formed everything, who OWNS this whole thing, formed us! He made us! He thought about us!
God knew me (and Jeremiah) before I ever existed! He was not only with me from the the start, He was with me well before the start! All other relationships seem trivial in comparison to that of having an intimate relationship with the God of the universe.
Not only that, He planned out what I was going to do in my life--He had great, out-of-this-world-amazing plans for my life!
"For we are God's handiwork,
created
in Christ Jesus to do good works,
which God prepared in advance for us to do."
-Ephesians 2:10
And, I mean, He's God--He knows the best that my life could be.
"
For I know the plans
I have for you,' declares the
Lord
, 'plans to prosper
you and not to harm you, plans to give you hope and a future."
-Jeremiah 29:11
"God treasures and anticipates our departure from this earth to be with Him, and we wonder, indifferently, how much we have to do for Him to get by."
-Francis Chan, Crazy Love
What makes me love God truly, intimately, is thinking about and knowing His love for me. God's love is crazy and amazing and outrageous, even though I keep sinning against Him every day, and I broke all His rules. Not only that, He gave his life for me as a ransom. To save me. From eternal death! The only right response to that is to surrender my life to Him, is it not?
"But God shows his love for us in that while we were still sinners, Christ died for us."
-Romans 5:8
I have been crucified with Christ
and I no longer live, but Christ lives in me.
The life I now live in the body, I live by faith in the Son of God,
who loved me
and gave himself for me.
-Galations 2:20
"But because of his great love for us, God, who is rich in mercy,
made us alive with Christ even when we were dead in transgressions—it is by grace you have been saved."
-Ephesians 2:4-5
As a Christian, I need to show a heartfelt, on-fire, pure, sincere passion, the truest passion, for God's crazy amazing love. I don't know about you, but when I see someone with a sincere passion for something, I think it's beautiful and I want to know more about it. Let's be that way for this love of God that is incomprehensible; completely stunning.
God bless you guys and have a great day! :)
Joy :)