Hi, everyone! :) Happy Friday again! Hope you guys had a great Valentine's Day and a great week. :)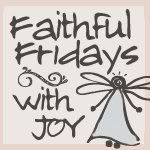 Faithful Fridays is a weekly linky party hosted on my blog. I made it so that Christians could have one special day out of the week (Friday) to share something from their Christian walk on their blog. If you'd like to participate,
write your post, grab the button from the Faithful Fridays page on my blog (so that it will link back here), and come link up at the bottom of this post! :)
*************************************************************************************************
Sometimes, I think we're not real with God. We're not completely truthful. I think that since we don't see God, we think we can put up a mask and hide away some of our hurts and struggles and desires from Him. And really, that's sort of stupid, because He knows us better than we know ourselves--He made us, He sustains us, He lives inside us, and He knows our heart and our deepest thoughts and feelings and desires.
"The heart is hopelessly dark and deceitful, a puzzle that no one can figure out. But I, God, search the heart and examine the mind. I get to the heart of the human. I get to the root of things. I treat them as they really are, not as they pretend to be."
-Jeremiah 17:9:-10
But that's not a reason to be afraid, because He loves us, anyway. The point is, we can't hide anything from God. Period. Not our doubts, not our struggles, not our failures, not our seemingly silly dreams, not our secret motives, or desires, or anything. And it tends to make us distant from God when we do try to hide things.
I'm kind of guilty of seeking a "good feeling" from God, instead of just God. Feelings don't last. And feelings may be real, but they aren't always true. God is. He's steady, and He's the only stable, unchanging thing in our lives, even if we don't feel that that's so. So why do we sometimes end up treating Him like a vending machine, something that we sometimes have to kick to get what we want? We don't need to let our desires, which are sometimes not good desires, become an underlying motive for coming to God. Because, first of all, God says:
"Ask and it will be given to you; seek and you will find; knock and the door will be opened to you."
-Matthew 7:7
"Don't bargain with God. Be direct. Ask for what you need. This is not a cat-and-mouse, hide-and-seek game we're in. If your little boy asks for a serving of fish, do you scare him with a live snake on his plate? If your little girl asks for an egg, do you trick her with a spider? As bad as you are, you wouldn't think of such a thing--you're at least decent to your own children. And don't you think the Father who conceived you in love will give the Holy Spirit when you ask him?"
-Luke 11:10-13
God is not our enemy. We don't have to sneak around and slyly try to get something from Him. All we need is Him alone, and He promises to meet with us anytime we come to Him for His love and peace. Jesus + nothing = everything. All we have to do is ask, seek, and knock.
Be real with God.
You don't have to hide your doubts and failures and struggles from God. He already sees them, and He already knows that you struggle. But we're free to struggle, because He paid the price for that on the cross. The great men of God, like David, Peter, and Paul, all struggled throughout their faith. Sin, doubts, and a "thorn in the flesh" plagued them all. But they held onto Jesus, fought to keep on God's path, and kept making movements toward Him--seeking Him. They didn't try to hide from God. They openly brought their brokenness and weaknesses and doubts and struggles straight to Him, laid them out in the open, and asked for help. And do you know what God told Paul?
"But he said to me, 'My grace is sufficient for you, for my power is made perfect in weakness.' Therefore I will boast all the more gladly about my weaknesses, so that Christ's power may rest on me."
-2 Corinthians 12:9
I'm not sure that I grasp the fullness of that, and I'm asking God to really show me what that means, but to have God's power made perfect in me? In my weakness? That's pretty much the best thing ever. No wonder Paul said,
"Once I heard that, I was glad to let it happen. I quit focusing on the handicap and began appreciating the gift. It was a case of Christ's strength moving in on my weakness. Now, I take limitations in stride, and with good cheer, these limitations that cut me down to size--abuse, accidents, opposition, bad breaks. I just let Christ take over! And so the weaker I get, the stronger I become."
Or in other words, he rejoiced. He found joy in the pain and the weaknesses and the struggles and the doubts, because He was real with God. He brought it all straight to God, openly and honestly, even if it was painful, and He learned that God was working in Him the most during these times of turmoil and battle. That's the art of celebration, in good times and bad. God doesn't want us to hide anything from Him. So even if we have to share the painful, honest truth, even if it's awkward, even if it isn't good, we need to be real with Him. Because then, He can start moving in our lives and creating something new and real in us.
Create in me a clean, clean heart
Create in me a work of art
Create in me a miracle,
Something real and something beautiful.
-"Create in Me," Rend Collective
In the same way, our wild, crazy, out-of-this-world dreams and desires are not stupid or small or silly to God. He cares about those things, and He wants us to share them with Him. So fish those things out of the depths of your heart, lay them out before God, thank Him for planting those dreams in your heart, and give them to Him so He can run with it. :)
Be real with God this week. When you're faced with something, whether it be doubt, or frustration, or something that just tosses your emotions around, or worry, or irritation, stop and tell God exactly how you're feeling. He can take it. :) Then give it to Him and ask Him to take it and shape it and move His power in you.
God bless you guys, and a have a wonderful weekend! :)
Joy :)