Helllooo, everyone! I hope you've had a great week so far! :)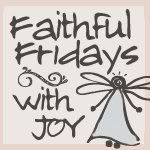 Faithful Fridays is a weekly linky party hosted on my blog. I made it so that Christians could have one special day out of the week (Friday) to share something from their Christian walk on their blog. If you'd like to participate,
write your post, grab the button from the Faithful Fridays page on my blog (so that it will link back here), and come link up at the bottom of this post! :)
****************************************************************************************************
You know how sometimes, we get so caught up in our routines, and life gets so crazy, that it actually gets in the way of...well...life?
It's like we get so busy trying to make life perfect that we stop living it. We plan and plan and we forget to take advantage of what's lying right before us. We get so busy planning what we want to do for our career that we forget to pursue the interests and passions God has given us. We get so busy trying to figure out how to do our hair and what to wear for that event that it ends up being more stressful than enjoyable, like it was planned to be. We get so busy trying to figure out how we're going to get to Bible study that we forget to love those right in front of us in that moment.
Before we know it, so many days have passed, and yet we aren't really living life the way Jesus came to give it.
"The thief comes only to steal and kill and destroy; I have come that they may have life, and have it to the full."
-John 10:10
Jesus' words to us--words about following Him, loving and forgiving others, giving of ourselves, and being a servant--weren't just words. They weren't just friendly suggestions. They weren't even good moral lessons. They were a new way to live life; the best way! And shouldn't Jesus know what abundant life really is? He is the embodiment of it, after all, the Son of God, who created life!
"Jesus answered, 'I am the way and the truth and the life. No one comes to the Father except through me."
-John 14:6
Jesus came to give us life, and to show us a new way, the best way, to live it. His way is sort of a reverse economy kind of thing--other people tell us, and we tell ourselves, that to have more means to be happy. That to serve yourself means to be satisfied. That to be in a perfectly still place with no problems or conflicts is the way to have peace. That to forgive is to lose. That to have a boyfriend or girlfriend is to be content. That to do what you feel like is freedom. That to follow God is to be a slave, tied down to rules and regulations.
But have you ever looked at someone who should have it all?
I'm thinking about people like Elvis.
And Whitney Houston.
Miley Cyrus.
People that should be perfectly happy--they have everything they need and want, and should they want anything else, they have plenty of money to get it. They could probably date any person they wanted--that alone should make them happy, right? They serve themselves, and they have tons of other people serving them, too. People all over the world want to meet them and even hold them up as idols.
And yet, they end up in these dark places, where they turn to drugs, alcohol, and other things to fill up the empty spaces. They're never satisfied, they're always searching.
It's not just the famous celebrities we all know. It's the people around us. Teenage girls, girls I know, are constantly thirsting after more attention, more love, more, more, more in their life to fill it up. Fathers who think working and making money to have big houses and big vacations end up getting obsessed with work and being successful and never being satisfied, either.
Guys, we're not preparing for life; we're LIVING it. Right now. As you're reading this. And life is short. So, so short. Shorter than we realize. It flies by. Did you know that there are only 940 Saturdays in between the time you're born and you go to college? These days that we just let slip away into the wind are going to add up to weeks and months and years, and before we know it, we'll be closer to eternity than we ever realized.
We spend so much time in this world concentrating on just getting by--so much time is spent on our routines and earthly stuff. But our purpose, the reason we were put on this earth, was not to just get by and make the most out of the little situations we were placed in. We were made for so much more than that. We were made to enjoy a living, breathing, active, intimate relationship of worship and love with our Creator, with Jesus. God wanted that so very much when He made us.
And when we realize that and start living it out, we find out what true joy is. We find out what true peace is. We find out what freedom really means, and what really happens when we forgive.
When we step outside of ourselves, surrender our lives to Jesus, and start following Him, we start soaking up His love and finding that true joy. When we lean on and trust Him during our struggles, we find out what true, mind-blowing peace really is.
When we give our life to Jesus, when we become His, we realize that true freedom is found in Him--we find out that we don't have to worry about what others think of us, or if we're making ourselves happy. Jesus brings us life, and we're free to struggle in the circle of His love, grace, and forgiveness.
"So if the Son sets you free, you are free indeed."
-John 8:36
When we forgive someone, we find out that that has set us free from grudges and hurt and pain that's been locked up inside us--we're free to go and live our lives in peace!
And when we stop trying to get everyone to serve us, and we humbly, lovingly serve others, like Jesus did, we find out what His love for us really means.
"For even the Son of Man came not to be served but to serve others and to give his life as a ransom for many."
-Mark 10:45
Maybe it sounds a little crazy. Maybe it doesn't make sense. But it works.
This is how I want to live life. Not by being wrapped up in my own stuff. But by following Jesus, recklessly, radically, truly. Because He is
life.
And when this life--which is just a short little puff of breath in comparison to eternity--is over, I want the things I did in it to matter.
This life is not a dress rehearsal. It's the real deal. And I want mine to be all about Jesus, living in His love and living it out to others, because that's all that matters.
****************************************************************************************
God bless you guys, and have a wonderful weekend! Thank you so much to those of you who participate in Faithful Fridays each week--I really appreciate it and love reading your posts! :)
Joy :)