Hellllooo, people. :) How are you guys today? No, really, I want to know. Tell me in a comment below what you've been doing today! :)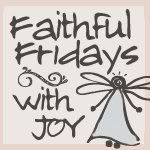 Faithful Fridays is a weekly linky party hosted on my blog. I made it so that Christians could have one special day out of the week (Friday) to share something from their Christian walk on their blog. If you'd like to participate,
write your post, grab the button from the Faithful Fridays page on my blog (so that it will link back here), and come link up at the bottom of this post! :)
**********************************************************************************************
One of my main jobs around the house is taking care of laundry. I was folding clothes the other day, and (pardon the OCD coming out in me), I came to having two white socks that weren't quite exactly the same. One was a little shorter than the other. They could have gone together, I suppose, but it wouldn't have been a perfect match.
Now, I had a bunch of stuff piled up on our dryer waiting to find a match or a place, and I was tempted to just throw those socks together and get them out of the way, but I decided to leave them both on the dryer and see if their matches came along later.
So they hung out on the dryer for a day or two, and then sure enough, on one of the next loads I folded, once I got around to it, the correct match came up and they all lived happily ever after. :)
What's my point? It may seem silly, but because those socks sat around on the dryer for a little bit and waited for their perfect match, they ended up finding that match and living happily ever after.
Life is a lot like that. Especially with the whole dating and finding a husband thing. It's a messy business, all right, because of the way the world does it these days. People jump at the opportunity to go for a relationship with any guy or girl that seems remotely attractive or a good match for them, instead of casually getting to know the person first and waiting for the perfect match--because they're too eager to have a boyfriend or girlfriend for whatever reason.
Am I saying that you're going to find a perfect person? Of course not! No one's perfect.
"for all have sinned and fall short of the glory of God."
-Romans 3:23
But God does have a will set out for your life, and He offers it to you quietly--not trying to push it down your throat, but wanting you to choose it--and it includes the right match for you.
People are desperate to jump into a relationship. Why? They don't seek God first.
"But seek first the kingdom of God and his righteousness, and all these things will be added to you."
-Matthew 6:33
God brings satisfaction over everything else. Sometimes we have to quiet ourselves and really seek God's face to find that satisfaction, but it's there. And we won't find it in any relationship or status or object.
So, be patient. Be encouraged! God has a plan for you, and He also will give you satisfaction while you wait, if you'll just seek Him.
God bless you guys and have a great day. :)
Joy :)
P.S. - There's a Disney post in the making, and some photography coming over that! :)