Hey, everyone! :) Sorry I'm a bit late this week! We've had a busy weekend. :) How has your week been? Mine has been filled with Christmas decorations. That's right. :D
And I have some exciting news. You may or may not have seen it on my Instagram, but our family is starting the process to try to adopt again! :) We're doing it through the states this time. We're very excited! We'd appreciate it if you'd keep us in your prayers. :)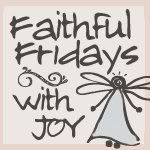 Faithful Fridays is a weekly linky party hosted on my blog. I made it so that Christians could have one special day out of the week (Friday) to share something from their Christian walk on their blog. If you'd like to participate,
write your post, grab the button from the Faithful Fridays page on my blog (so that it will link back here), and come link up at the bottom of this post! :)
**************************************************************************************************
Lately my calf muscles have just been killing me.
Between exercising, swing dancing (that really gives your calves a workout), and roller skating, they just ache most of the time. It's a pain, because sometimes I'll wake up in the morning with this really bad pain, and it takes a while to go away. Or sometimes, my legs will just hurt dully throughout the day.
But you know what that tells me? It tells me that my muscles are weak, but they're getting stronger. They're stretching, they're working, they're getting bigger and better.
And in a way that makes me think of when we have storms in our faith--trials, doubts, painful times.
It's painful, it's unpleasant, and if I had the choice to change it, I might, but I know that in the end, if I persevere and keep getting back up and doing what I'm doing, things will get better. In fact, they'll probably be a lot better than they were before! I'll be rewarded for persevering.
"Because you know that the testing of your faith produces perseverance."
-James 1:3
Are you being tested in your faith right now? Are you sore and tired and in pain? Take heart. If you will persevere and trust God during this time, despite your feelings, things will get better, God will restore, and you will be rewarded. Don't give up!
Therefore, since we have been justified through faith, we have peace with God through our Lord Jesus Christ, through whom we have gained access by faith into this grace in which we now stand. And we boast in the hope of the glory of God. Not only so, but we also glory in our sufferings,because we know that suffering produces perseverance; perseverance, character; and character, hope. And hope does not put us to shame, because God's love has been poured out into our hearts through the Holy Spirit, who has been given to us.
-Romans 5:1-5
God bless you guys and have a great day. :)
Joy :)