Hi, everyone! :) I'm here for Faithful Fridays...a day late, because our weekend has been action-packed (I'll be back to tell more about that soon), but I'm here! :)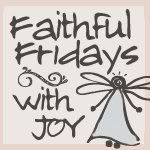 Faithful Fridays is a weekly linky party hosted on my blog. I made it so that Christians could have one special day out of the week (Friday) to share something from their Christian walk on their blog. If you'd like to participate,
write your post, grab the button from the Faithful Fridays page on my blog (so that it will link back here), and come link up at the bottom of this post! :)
*****************************************************************************************************
I've been dealing with some stuff emotionally lately, and it's felt like a stormy kind of time in my walk with Jesus, but I've been reflecting on just how good God is, even in our storms.
"The Lord is good, a refuge in times of trouble, He cares for those who trust in him,"
-Nahum 1:7
He's answered so many of my prayer requests--even just the little ones. For instance, before we went to Disney World, we prayed that my daddy's knee problems wouldn't hold him back from being able to do things--and it didn't! He had issues with it, but he was still able to get up and go to the parks each day.
He made pretty much my every little dream come true when I met Peter Pan. You guys may not understand how much that means to me. God cares about the little things--He orchestrated it perfectly for me! :)
I got to take part in a swing dance flash mob--something kind of big for me because a flash mob video was what got me interested in swing dancing, and I've always wanted to be part of one.
Another thing--I'll be honest here: I tend to live in a little bit of fear of having a pancreatitis episode flare up on me any time I have something big coming up that I'm looking forward to, because that's happened before. Last February, I went into the hospital right before my Chinese New Year performance was supposed to happen, and I wasn't able to make it. I've had a lot of things to look forward to lately--Disney World, the Reset Movement concert, the swing dance flash mob, and going to the carnival with some friends last night. And God has kept me well and healthy so that I could go and enjoy them all.
And I'm really thankful that for all of that. :)
"And we know that in all things God works for the good of those who love him, who have been called according to his purpose."
-Romans 8:28
So, my point is that I'm really thankful that God hears me and answers my little prayers even in my stormy times--and I want to acknowledge that. And, God does care about the little things that matter deep down inside your heart. He knows all about you, everything inside and out, every little nook and cranny of your mind. Don't let that scare you--the awesome thing is that He loves you more than you can imagine, despite what He sees--good and bad. And he cares about those dreams you have--big and small. Bring them to Him! :)
God bless you guys and have a great day! :)
Joy :)