Hi, everyone! :) It's Friday again!
My Friday today is pretty different from last Friday. :) Last Friday, I had been at home, not doing much. But this Friday, we're in Alabama, visiting family....after a concert. :) The RESET Movement came to a town about four hours from us on Wednesday and my parents were oh-so-kind enough to take me. And guess who came with the RESET Movement?! Rend Collective and Morgan Harper Nichols! I have *loved* Rend Collective's music for a while and was so, so, so excited to see them...they didn't disappoint. :) I had heard Morgan sing with her sister, Jamie Grace, but hadn't heard any of her own original songs. I'm so glad she was there, because she's made a new fan out of me. :) Her song "Let Everything" is awesome!
I also got to hear other artists--Matt Gilman, Lacey Sturm, and spoken word poet/rapper Propaganda. :) It was an amazing night! I also got to meet the artists afterward. I got to talk with Pat and Chris from Rend Collective for quite a while (with some online friends who I finally got to meet)! It was an overall amazing night. :) God is good!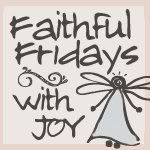 Faithful Fridays is a weekly linky party hosted on my blog. I made it so that Christians could have one special day out of the week (Friday) to share something from their Christian walk on their blog. If you'd like to participate,
write your post, grab the button from the Faithful Fridays page on my blog (so that it will link back here), and come link up at the bottom of this post! :)
************************************************************************
Something I've been thinking about, and that was mentioned at the concert, is remembering what God has done for you.
I mean, we say that we know God's done a lot for us, but do we ever really think about the recent, powerful things He's done that just totally gave us what we needed when we needed it?
I've often wished that I could be given such a mighty sign from God as the sea being parted so that I and my people could pass through on dry land, then letting it go again to crash down on our enemies--wouldn't that have been amazing?!
The Israelites were shown amazing signs like this over and over again, and yet again and again they turned from the Lord. How could they do that?!
But sometimes we do that. God does something for us and works things to our good, just as He promises, and reveals Himself and lifts us up out of our despair when we need it.....and then we forget.
We need to keep going back and reminding ourselves of everything that God's done for us. We need to remind ourselves of all that He's brought us through and all the times He's fulfilled His promises to us.
The Israelites used to put up piles of rocks so that every time they passed by it and it stuck out and made itself noticed, they would remember what God had done and re-tell the account to themselves and to their children and grandchildren. I think that's a pretty awesome idea. We don't need to ever forget what God's done for us!
"Over Achan they heaped up a large pile of rocks, which remains to this day. Then the

Lord

turned from his fierce anger. Therefore that place has been called the Valley of Achor ever since."
-Joshua 7:26
So, if you're going through something, or you're confused, or scared, or unsure, or even if you're not and you're just sitting there and you're perfectly content, remind yourself of all the things God's done for you, all the times He's brought you through and fulfilled His promises. It does a soul good. :)
God bless you guys and have a great day! :)
Joy :)
P.S. Linky isn't working for me right now, so if you've participated in Faithful Fridays, please let me know in your comment! :)