Hi, everyone! :)
Gosh, it's been a while, hasn't it? We had SO MUCH fun at Disney World. Best vacation ever. We miss it...still recovering! :) Hence my late Faithful Friday post. Oh, well. Better late than never, right?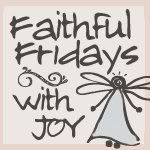 Faithful Fridays is a weekly linky party hosted on my blog. I made it so that Christians could have one special day out of the week (Friday) to share something from their Christian walk on their blog. If you'd like to participate,
write your post, grab the button from the Faithful Fridays page on my blog (so that it will link back here), and come link up at the bottom of this post! :)
**********************************************************************************************
Feelings are funny things, aren't they? God gave them to us. They're built into us. Part of us. But I think after the fall of man and sin entering the world, they have become really, really twisted.
Here's the awesome thing: God isn't human, so He is not bound by feelings at all. Feelings don't change Him. They don't change His word. They don't change His promises!
Read that again. Isn't that great to know? God is constant.
"Jesus Christ is the same yesterday and today and forever."
-Hebrews 13:8
The same love that we feel when we are on top of the world is the same love that is still there for us when we are down in the dumps and feel abandoned by God. His promises are still the same to us. Our feelings don't change that, and we can still hold onto those promises, even if it doesn't change how we feel. Feelings don't change our relationship with God. He encourages us to pour out our feelings and thoughts and worries to Him. When you made that choice to trust in Jesus, you were locked into His love for life. You've got the maker of the universe looking out for you! That's the awesome thing about our God.
"Cast all your anxiety on him because he cares for you."
-1 Peter 5:7
That's faith. It's trusting in God, even when you don't feel like it, even when you don't see it....you trust. It's a choice you make. Love and trust aren't feelings, they're choices.
"And without faith it is impossible to please God, because anyone who comes to him must believe that he exists and that he rewards those who earnestly seek him."
-Hebrews 11:6
So whatever you're dealing with, whatever sea of emotions or thoughts or worries you're being tossed around in, just lean on Him. Bring it all to Him, regardless of how you're feeling. He can take it. He will take it. He is your God!
God bless you guys and have a great day. :)
Joy :)