Hi, everyone! :) Friday has rolled back around, and I am super excited. Why? Because we're leaving for
Disney World
TOMORROW. Yes, that's right. :) Luke and I are first-timers, and it's been over twenty years since my parents have been. We'll be leaving tomorrow morning and won't be coming back until next Saturday night.
So, I won't be hosting Faithful Fridays next Friday.
If you're on Instagram, you can follow our trip there. :)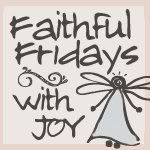 Faithful Fridays is a weekly linky party hosted on my blog. I made it so that Christians could have one special day out of the week (Friday) to share something from their Christian walk on their blog. If you'd like to participate,
write your post, grab the button from the Faithful Fridays page on my blog (so that it will link back here), and come link up at the bottom of this post! :)
*************************************************************************
I'm taking a Bible apologetics class right now with our homeschool group. It's so refreshing to be able to learn about how the Bible just totally makes sense with what we see in the world. We have the same evidence as evolutionists and atheists, it's just that we're pushed around and we don't think for ourselves and dig into God's word, which should be our foundation. So much of the "evidence" that evolutionists find supports and confirms the Bible more than anything else. We do have a logical reason for believing in our faith and we shouldn't allow others to tell us otherwise.
"But in your hearts, revere Christ as Lord. Always be prepared to give an answer to everyone who asks you to give the reason for the hope that you have. But do this with gentleness and respect, keeping a clear conscience, so that those who speak maliciously against against your good behavior in Christ may be ashamed of their slander."
-1 Peter 3:15-16
God's truth is truth, whether or not we believe it. Right and wrong is right and wrong, even if the whole world says it's otherwise. Truth doesn't change. Majority doesn't decide truth. Feelings don't decide truth. Truth decides truth. We have to stand on God's word as truth. We have to use God's word as the glasses through which we see the world. Our foundation. Our core. Our everything. It's solid and wise. It won't disappoint. Read it, study it, know it, pray it, believe it, stand on it, act on it. Live it.
God bless you guys and have a great day. :)
Joy :)