Hi there! :) It's time for Faithful Fridays!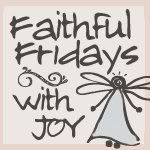 Faithful Fridays is a weekly linky party hosted on my blog. I made it so that Christians could have one special day out of the week (Friday) to share something from their Christian walk on their blog. If you'd like to participate,
write your post, grab the button from the Faithful Fridays page on my blog (so that it will link back here), and come link up at the bottom of this post! :)
*********************************************************************
Something that's kind of been on my mind and heart is modesty.
And not in the way you think. I'm sure I've talked about modesty before in some way, and there are tons of posts about modesty in the way we dress and act. So much so, that I think sometimes in our own little Christian circles, we feel more pressure and judgement on the side that's telling us to be modest in our dress than from the side that's pressuring us to dress skimpily for attention. Do you know what I mean?
Different people have different ideas of modesty--kind of like how in the church, we have different denominations and variations of beliefs.
These things in the church aren't salvation issues most of the time. But still, we get crazy over this stuff. We get in fights, hold grudges, even split off into other churches because of these minor issues.
And within the circles of Christian girls and women, some of us do this over modesty. We silently (or maybe not so silently) intimidate, belittle, and shame each other if we don't wear skirts or if our shorts are too short or if we don't wear a tank top under our blouses. And it's not really that it's really immodest--we know when something is truly immodest. It's that different people have different ideas of "exact" or "true" modesty, and we try to push them on each other. And it results in people feeling judged and intimidated.
"Charm is deceitful and beauty is fleeting; but a woman who fears the Lord is to be praised."
-Proverbs 31:30
I don't know about you, but sometimes I get so tired of people pushing modesty articles in my face and discussing hemlines and routines and rules. And then there's the polls and the opinions and the videos where they get guys to come in and talk about how they can't stand it when a girl wears this or that.
Modesty IS important--that's for sure. We don't want to be careless with what we wear. But we also don't need to let these things divide us and rule us and get in the way of making Jesus first. It doesn't need to be blown up into a big, over-the-top, life-ruling argument. We have to keep things in proportion and keep our priorities straight. We have to keep ourselves from getting a judgemental, "I'm-more-modest-than-you-are" attitude.
It all comes down to this: most of us know when something is immodest. So if you think or feel it isn't, don't wear it. Bottom line. Get advice from your parents. Beyond that, things like whether or not we wear skirts or earrings or shorts or whatever isn't really important.
We get so wrapped up in these issues that we forget what a big part of modesty is about--inner beauty. And if we're too busy haranguing each other over what we wear, aren't we forgetting about that?
"Rather, it should be that of your inner self, the unfading beauty of a gentle and quiet spirit, which is of great worth in God's sight."
-1 Peter 3:4
Girls, we have got to stick together. Being a girl is hard. Being a teenage girl is harder. And being a teenage girl trying her best to follow Jesus with her whole being is the hardest. But we can do it. Just lean on Him and let everything else fall under that.
Don't let side issues distract you from keeping your eyes on Jesus. He doesn't want us to let these things get first place in our lives above Him. Lay away all the small, petty issues and seek Jesus--He has such a high plan for you!
God bless you guys and have a great day! :)
Joy :)