Hi, everyone! :) Sorry I'm a bit late today. We got up this morning, packed, and finished school so we could head off to spend our weekend in Alabama with family again. :)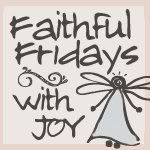 Faithful Fridays is a weekly linky party hosted on my blog. I made it so that Christians could have one special day out of the week (Friday) to share something from their Christian walk on their blog. If you'd like to participate,
write your post, grab the button from the Faithful Fridays page on my blog (so that it will link back here), and come link up at the bottom of this post! :)
*******************************************************************************************************
Do you ever evaluate yourself?
Do you evaluate your relationship with the Lord? Your walk? Your thought life? Whether or not you're being a good Christian?
I know I do. I guess I'm trying to keep a check on my heart and the condition of my relationship with the Lord, but I worry myself into a tizzy. I start to feel guilty and anxious a lot. I don't feel close to the Lord and I feel like it's completely my fault.
But it's not my job to keep tabs or pass judgement or evaluation on myself or others. The same verses in the Bible that talk about not judging others apply to judging ourselves and judging situations and relationships.
Here's the deal:
It is by grace alone that I have a relationship with God. Not in my own strength. Not in my own will or power. All grace. It was a gift, and a mavelous and mind-blowing one at that.
So, my job is not to work tirelessly at my relationship with the Lord, trying to grow it in my own strength, but simply to draw near to Him and know that only His grace and His word and His power can pull me closer to Him and keep me there.
"For it is by grace you have been saved, through faith—and this is not from yourselves, it is the gift of God— not by works, so that no one can boast."
-Ephesians 2:8-9
"'I am the vine; you are the branches. If you remain in me and I in you, you will bear much fruit; apart from me you can do nothing."
-John 15:5
"But he said to me, 'My grace is sufficient for you, for my power is made perfect in weakness.' Therefore I will boast all the more gladly about my weaknesses, so that Christ's power may rest on me. That is why, for Christ's sake, I delight in weaknesses, in insults, in hardships, in persecutions, in difficulties. For when I am weak, then I am strong."
-2 Corinthians 12:9-10
So today, if you're judging yourself over something, just step back and give it a break. Remember that you are weak, but He is strong. You can do nothing on your own, but in His strength you can do all things.

Relax and rest in His grace.
God bless you guys and have a great day. :)
Joy :)