Hello there, everyone, and happy Friday! :)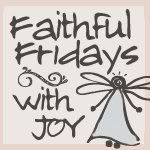 Faithful Fridays is a weekly linky party hosted on my blog. I made it so that Christians could have one special day out of the week (Friday) to share something from their Christian walk on their blog. If you'd like to participate,
write your post, grab the button from the Faithful Fridays page on my blog (so that it will link back here), and come link up at the bottom of this post! :)
**************************************************************************
I don't know about you, but I have some days when I just feel like everything I do is wrong. I keep making mistakes and losing my self-control and I get so frustrated and disappointed with myself that I just can't stand it.
When I have these moments...and hours...and days...and weeks, I have to remind myself to stop and remember a couple of things.
1. Regardless of whether I feel it or not, God is standing right there with me, offering His hand to me, waiting to help me get back on my feet. I just need to get away from all the stuff and seek Him. I need to pour out my heart to Him, read His words, and find refuge in Him.
2. Often, I'm not doing as bad as I think I am. I tend to be really hard on myself. I think we're all like that at times. We want to please God, and we don't give ourselves room to fail sometimes. I'm not saying that we should accept sin in our lives or make excuses for ourselves--of course not! But we have to remember that we are going to mess up sometimes, and that if we realize what we've done and repent and ask God's forgiveness for it, He is so quick to pick us right back up and His forgiveness is instant--Jesus already paid the price. God's love is so amazing. It's incredible. Incomprehensible. No matter how many times we fall and mess up, God is still standing right there, waiting for us to reach up to Him with a repentant heart. He's standing there saying, "You know what? You can do this. Just get right back up." Even when we feel like we're just the most messed-up people and we'll never stop making mistakes, He's reminding us that His love is eternal and that it never stops. It keeps on.
3. This too shall pass. This is something my mama says all the time. Often the things that we see as big and threatening and scary are not as big and bad as they seem. And they will get better. These problems will pass away. Besides, God is bigger than any problem we could ever have. Isn't that just the most comforting thought ever?
"Praise be to the Lord, to God our Savior, who daily bears our burdens."
-Psalm 68:19
God's standing there, waiting for us to give up our worries and anxiety and problems. He's the God that takes the burdens off our shoulders. So just stop, get on your knees, and give it to Him.
"Do not be anxious about anything, but in every situation, by prayer and petition, with thanksgiving, present your requests to God. And the peace of God, which transcends all understanding, will guard your hearts and your minds in Christ Jesus."
-Philippians 4:6-7
God bless you guys and have a great day! :)
Joy :)