Hi, everyone! :) It's time for Faithful Fridays! :) Sorry I'm a bit late this week--I got on the computer to write my post and the internet decided not to work. Technology. ;)
Next Friday will be right after Thanksgiving, and I'll be out of town and probably very busy, so I'll be taking a break from Faithful Friday then. I hope you guys have a wonderful Thanksgiving! :)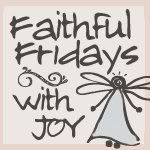 Faithful Fridays is a weekly linky party hosted on my blog. I made it so that Christians could have one special day out of the week (Friday) to share something from their Christian walk on their blog. If you'd like to participate,
write your post, grab the button from the Faithful Fridays page on my blog (so that it will link back here), and come link up at the bottom of this post! :)
***************************************************************************
When you wake up in the morning, what do you do first? Read your Bible? Prepare yourself for the day? Check your phone? Turn off your alarm?
I know that part of my morning routine, whether I realize it or not, is measuring myself up to the rest of the day. How will I handle the frustrations and troubles that will probably come up throughout my day? Will this be a good day? Can I handle it?
But then my devotional book just kind of slapped me in the face with something. I have these plans laid out in my head of what my day will be like, or what my life will be like, but in reality, God's will is oh so much better than that. If God were to take my day in His hands and orchestrate it, it would be amazing, would it not? It would be ten times better than anything I could lay out, because He's GOD.
"Commit to the Lord whatever you do, and your plans will succeed."
-Proverbs 16:3
And you know what? God says He will order our steps. He will lay out a path for us.
"I will instruct you and teach you in the way you should go; I will counsel you with my loving eye on you."
-Psalm 32:8
But we have to trust Him in that. We have to let go of all our plans and surrender it all to Him, because only then will He take it into His hands and make it something better than we could ever imagine. God knows the dreams and desires in your heart, so don't worry. He loves you and unless they will be harmful to you or they're outside of His perfect will, He won't make you give them up. Because don't you know that when God intervenes, it becomes something better than the best day we could imagine?
"Now to him who is able to do immeasurably more than all we ask or imagine, according to his power that is at work within us, to him be glory in the church and in Christ Jesus throughout all generations, for ever and ever! Amen."
-Ephesians 3:20-21
So, I often get into the mindset of what I "know" will "probably happen" in a day, and I try to fit God into that, but instead I need to just give it all back to Him and let Him do with it what He will, because only then will it be amazing and beyond anything I could ever ask or imagine.
God bless you guys and have a great day! :)
Joy :)