Hi, there, everyone! :) It's time for Faithful Friday again! :) We're breaking out the rest of the Christmas decorations, as well as the Christmas movies this evening. We loooove Christmas! :)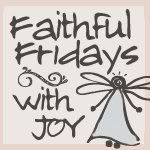 Faithful Fridays is a weekly linky party hosted on my blog. I made it so that Christians could have one special day out of the week (Friday) to share something from their Christian walk on their blog. If you'd like to participate,
write your post, grab the button from the Faithful Fridays page on my blog (so that it will link back here), and come link up at the bottom of this post! :)
***************************************************************************************************
I'm reading a book right now in school called God's Will, God's Best for Your Life (one of the perks of homeschooling is that awesome Bible books are part of your school work ;)). I love it, love it, love it.
Here's the deal: there's this watered-down, falsified "gospel" going around these days that's a sort of "prosperity gospel." And it's totally wrong. It claims that if you go to church and read your Bible and do all that "Christianly" stuff, God will give you things--more money, a bigger house, a new car, all kinds of things.
But we see in God's word that this is not true.
But that's not to say that as Christians we're going to have a horrible life and it's just going to stink.
That's what I love about this book that I'm reading.
God never promises us that we'll have all the nice earthly things. He never promises that our lives will be all sunshine and rainbows and roses.
But, living our lives in His will is the very best way to live. It won't be perfect. But it will be oh-so-amazing. God promises to be with us and comfort us and give us joy. He gives us all these amazing promises.
"Keep this Book of the Law always on your lips; meditate on it day and night, so that you may be careful to do everything written in it. Then you will be prosperous and successful.
Have I not commanded you? Be strong and courageous. Do not be afraid; do not be discouraged, for the

Lord

your God will be with you wherever you go.'"
-Joshua 1:8-9
"Trouble and distress have come upon me, but your commands give me delight."
-Psalm 119:143
But do you know what the key to all that is?
Giving yourself completely to Him. Dedicating yourself to following Jesus and His will for your whole life--not living by the ways and standards of the world, but living your life for Him--in worship and dedication to Him.
"Therefore, I urge you, brothers and sisters, in view of God's mercy, to offer your bodies as a living sacrifice, holy and pleasing to God—this is your true and proper worship.
Do not conform to the pattern of this world, but be transformed by the renewing of your mind. Then you will be able to test and approve what God's will is—his good, pleasing and perfect will."
-Romans 12:1-2
So, you want a good life? I know I do. I want something to hold onto. A purpose. Love in my life. Peace. Protection. Joy.
And Jesus promises all that. He really does. But in order to claim that for ourselves, we must surrender our lives to Jesus. It's a sweet surrender.
***********************************************
God bless you guys and have a great day! :)
Joy :)