Hi, everyone! :) It's time for Faithful Fridays again! It sure rolls around quick, doesn't it? :)
The crazy thing is that when Mama and I sat down to write our posts today, neither one of us had shared our ideas with each other. Mama casually mentioned a Bible verse, and I said, "I'm using that verse!" And then we discovered that our posts were titled almost the exact same thing. I guess this post needs to get out there today! ;)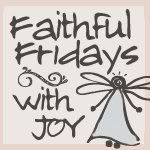 Faithful Fridays is a weekly linky party hosted on my blog. I made it so that Christians could have one special day out of the week (Friday) to share something from their Christian walk on their blog. If you'd like to participate,
write your post, grab the button from the Faithful Fridays page on my blog (so that it will link back here), and come link up at the bottom of this post! :)
*****************************************************************************
Life is hard.
That's just the truth, and that's the easiest way to put it.
We are going to to go through things that just put us in agony and heartache. Whether it be our fears, our circumstances, a sickness, the loss of a loved one, problems in a relationship, our temper, our job, our self-image, or whatever, we're going to have some problems in this life because of sin.
And so you start to think, "Well, what's the point, then? Why even try? Is that all I have to look forward to in life?"
But God has promised that we can overcome this stuff in Him.
We are incapable of seeing things the way God sees them. He sees the entire big picture of our lives and the lives of others, from the start to the finish, and everything before, after, and in-between.
We are only capable of seeing things up close. We judge situations by our feelings. We feel alone and like this problem is never going to end, so we believe that.
I
believe that.
It happens to everyone.
But we can't continue to go by our feelings. I know that I say that a lot, and I'm preaching to myself here, but it's
so true
.
God has promised so many times that He is with us, that He will never leave us, that we'll never be alone. He's promised that we can do this thing with Him, that He can give us life and help us overcome this stuff.
"The thief comes only to kill and steal and destroy; I have come so that they may have life, and have it to the full."
-John 10:10
"for God gave us a spirit not of fear but of power and love and self-control."
-2 Timothy 1:7
"No one will be able to stand against you all the days of your life. As I was with Moses, so I will be with you; I will never leave you nor forsake you."
-Joshua 1:5
Wow. Moses went through some stuff, didn't he? He was ordered (along with thousands of other baby boys) to be killed as a baby. Then, his mother had to give him up to the pharaoh's daughter to save his life. When he got older, he had to choose between a life of luxury and doing the right thing by joining his people and enduring persecution with them. He choose the right path (which is usually the hardest path, and it was), and he was definitely persecuted for it. He had to lead the Israelites and put up with their whining and complaining and doubt.
But God was with Him. He never left his side, and none of Moses' problems ever lasted forever.
God says that His strength is made perfect in our weakness. So, we don't have to be ashamed of our weaknesses and faults and flaws and problems, because God can use all that for His glory. He can work it into His glorious plan for our lives. We don't have to be ashamed or upset about our fears and failures, because God says He can make up for it in our lives with His strength!
We may not understand how in any way on this earth this problem will turn out for good, but God knows. It may be to help someone else. It may be to learn a lesson. It may be to bring us closer to God. And it may be none of these. It may be to show us that He's going to be there, even in the worst times.
"But he said to me, 'My grace is sufficient for you, for my power is made perfect in weakness.' Therefore I will boast all the more gladly of my weaknesses, so that the power of Christ may rest upon me."
-2 Corinthians 12:9
"You intended to harm me, but God intended it for good to accomplish what is now being done, the saving of many lives."
-Genesis 50:20
God's love is perfect. We don't have to be self-sufficient and independent and deal with stuff ourselves. Our God is the God who can take the weight off our shoulders. He says that His burden is light. By giving up our struggle for self-sufficiency and trying to do it on our own, we can find freedom. We can lean on Him and find rest, comfort, joy, protection, and contentment.
"There is no fear in love, but perfect love casts out fear. For fear has to do with punishment, and whoever fears has not been perfected in love."
-1 John 4:18
God promises to help us through the storms of life. Whether He stops the storm or comes to you in the middle of it to wrap you in His arms, He's going to be there.
And just remember that you're an overcomer in Him.
You're an overcomer
Stay in the fight 'til the final round
You're not going under 'cause God is holding you right now
You might be down for a moment
Feeling like it's hopeless
That's when he reminds you
That you're an overcomer
You're an overcomer
-"Overcomer" by Mandisa
I write to you, dear children,
because you know the Father.
I write to you, fathers,
because you know him who is from the beginning.
I write to you, young men,
because you are strong,
and the word of God lives in you,
and you have overcome the evil one.
-1 John 2:12-14
*************************************************************************
God bless you guys and have a great day! :)
Joy :)