Hi, everyone! :) We're visiting family in Alabama for the 4th and I'm never in my usual computer routine when we go out of town, so that's why I'm a day late for Faithful Fridays. :)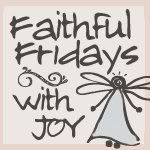 Faithful Fridays is a weekly linky party hosted on my blog. I made it so that Christians could have one special day out of the week (Friday) to share something from their Christian walk on their blog. If you'd like to participate,
write your post, grab the button from the Faithful Fridays page on my blog (so that it will link back here), and come link up at the bottom of this post! :)
**********************************************************************
(If you recognize this, it's probably because you saw it when I posted it on Instagram. I decided I wanted to share these thoughts here on my blog, too.)
I heard something on K-LOVE radio the other day that just made a lot of sense.
When people go to price an item for selling, the biggest thing they depend on is if other people value it. Do they value it at all? How much value and worth do they find in it?
And the sad thing is, sometimes we do the same thing with ourselves. We try to find our worth and value and confidence in what other people think of us and how much they value us....and then we wonder why we feel worthless.
People can and will let us down. God never will.
In Christ alone can we find our true worth. He values us above all else! He can have anyone and anything in the world to love as His own, and He chooses YOU. The Maker of the Universe, the God over all, the Lord of lords chooses you! He values us so much that he sacrificed His own SON to be killed, to die a shameful, torturous death on a cross...like a criminal. Because we were the the criminals, the sinners, and He took our place because He values us and loves us.
"For those who are led by the Spirit of God are the children of God."
-Romans 8:14
Our worth in God's eyes is enormous and His love for us is unconditional and eternal. In Christ alone our worth is found.
God bless you guys and have a great day!
Joy :)