Hi, everyone! :) It feels like it's been a long time since I wrote my last Faithful Friday post. I don't know why. :)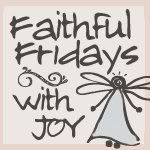 Faithful Fridays is a weekly linky party hosted on my blog. I made it so that Christians could have one special day out of the week (Friday) to share something from their Christian walk on their blog. If you'd like to participate,
write your post, grab the button from the Faithful Fridays page on my blog (so that it will link back here), and come link up at the bottom of this post! :)
**************************************************************************************************
I know a few of you that may be reading this have taken ballet at some point.
Ballet is interesting. It's packed full with gracefulness and beauty, and yet it takes so much strength. It can be rather difficult. There are lots of turns and twists and swiftness and speed. And there's also lots of slow, deliberate movements that take strength and patience and control.
I think each ballerina has a few movements that just come as a challenge to her. Maybe she's not flexible or isn't great at pirouettes, or maybe leaps and jumps don't come easily.
I think following Jesus can kind of be like being a ballerina. There is so much beauty in following Jesus. So much grace and love and peace and forgiveness and mercy. And yet, our strength is tested a lot, too. We have to stretch and bend and learn and grow. After all, we wouldn't need mercy or forgiveness if we didn't fail.
Sometimes, our Christian walk is rattled by change--good or bad--and we are forced to move quickly, to fly along the path of life we're on at the moment and everything seems to be happening so fast and we might struggle to keep up. These are the times when God is working at our lives, changing them, possibly preparing us for a big opportunity or calling. We can feel so uneasy.
At other times, things can seem to be going painfully slow and circumstances can pull at us so heavily. We just feel so down, dragging along the path. Maybe we just feel so disheartened by all the depressing, sorrowful things going on in our lives. Or maybe it's a place where we feel bored, in a rut, and like we're failing; feeling like we can't be used by God.
Sometimes we struggle with certain areas of our Christian walk. Our thoughts, actions, tempers, having patience, playing the "comparison game," reading our Bible and applying or meditating on it, praying, or whatever.
But through all of our shortcomings (and boy does the Lord know we have them--that's all humans ever seem to do!) and our failures and mistakes and mess-ups, God is so loving and faithful and forgiving. He never stops loving us or forgiving us or offering His big, comforting hand of mercy toward us.
But God demonstrates his own love for us in this: While we were still sinners, Christ died for us.
-Romans 5:8
Wow. Seriously, who does that? Who loves like that? Who is that merciful?
And just as a ballerina "spots," or keeps her eye on one spot as she's spinning and turning her head, a spot in the direction she's going (forward), we must keep our eyes on Jesus, the author and perfecter of our faith, who for the joy set before him endured the cross, scorning its shame, and sat down at the right hand of the throne of God (Hebrews 12:2).
"I can do all things through him who gives me strength."
-Philippians 4:13
We must keep moving forward and focusing our eyes on Jesus, not looking back or to the side or taking our eyes off Him, because if we do, we can fall into confusion and dizziness.
For God is not the author of confusion but of peace.
-1 Corinthians 14:33
Keep your eyes on Jesus.
God bless you guys and have a great day! :)
Joy :)
All pictures via Pinterest