Hello, my friends! It's time for Faithful Fridays. :)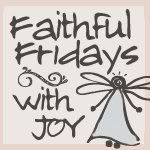 Faithful Fridays is a weekly "meme" hosted on my blog. I made it so that Christians would have a designated day (Friday) to share something from their Christian walk on their blog. If you'd like to participate, write your post, grab the Faithful Friday button from my "Faithful Friday" page, and come link up at the bottom of this post! :)
***********************************************************************
Many of you ladies have chosen to take a route different from the world's as far as dating goes--as have I. I know views and terms very on this, but I think the most accurate way to describe the route we're going down is courtship. You've probably chosen courtship, whether in a mild form or a more extreme form.
Another part of being a Christian is carefully choosing the music we listen to.
A powerful reminder.
Moriah Peters, a new singer in the Christian music world, has a few songs out that are just great. Some of my favorites are "Well Done," "Sing in the Rain," and "Haven't Even Kissed."
I feel like "Haven't Even Kissed" is a song you girls would enjoy. It's encouraging. It's a love song. It's a song about purity. Moriah is saving her first kiss for marriage. In this song, you sort of get a glimpse of what it might feel like when you finally meet the person you know God wants you to marry. You'll know (so I've been told). :)
Now, Moriah Peters has certainly had her faith tested. She auditioned for American Idol a little while back, and she has a great story to tell about how even though American Idol wasn't the plan for her life, the five months she spent on it still had a purpose.
I hope that Moriah's story encourages you. :)
Have a great day and God bless!
Joy :)