Hi everyone! It's Friday again (which reminds me--has anyone heard that annoying song by Reb*cca Black that says "Friday, Friday" over and over again? That song won't.leave.my.head.)! Anyway.
Faithful Fridays is a weekly "meme" hosted on my blog. I made it so that Christians would have a designated day (Friday) to share something from their Christian walk on their blog. If you'd like to participate, grab the button above, write your post, and then come link up at the bottom of this post! :)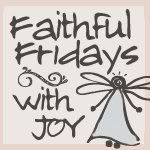 Today, I want to share a devotional with you. It's from the devotional book His Princess (Love Letters from Your King) by Sheri Rose Shepherd. Love this one! The title of this particular devotional is "My Princess...Grow Where You are Planted."
"And we know that God causes everything to work together for the good of those who love God and are called according to his purpose for them."
-Romans 8:28
I know you sometimes wonder if your life has any real worth. But I assure you that I can use you to impact those around you. Just as I used Paul in prison, I will use you wherever you are or whatever circumstance you are in. Let Me water you with My holy Word, and you will begin to bloom wherever you are planted. Come to Me in prayer and let Me empower you with My spirit. Even if you can't see the harvest of your hard work now, I promise that others will one day look back at the time you were in their lives and remember your acts of kindness, words of wisdom, and love for them. So for now, My valuable princess, let Me help you blossom in a world that is searching for the meaning of life.
Love,
Your King and Gardener of Life
------------------------------------------------
God can use us in everyday situations--on the internet, hanging out with friends, helping out in the nursery or children's class at church--any way you can imagine. So grow where you're planted.
Have a great day and God bless you!
Joy :)