Hello, everyone! :) I'd like to ask you guys to be praying for my aunt again--she went back into the hospital a little over a week ago, and she's had two seizures. They're unsure what to do for her. She was doing really well and then something just happened and she was back to not doing so well again. We'd really appreciate your prayers! :)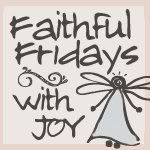 Faithful Fridays is a weekly linky party hosted on my blog. I made it so that Christians could have one special day out of the week (Friday) to share something from their walk with Jesus on their blog. If you'd like to participate,
write your post, grab the button from the Faithful Fridays page on my blog (so that it will link back here), and come link up at the bottom of this post! :)
*****************************************************************************************************
I think the concept of church has changed a lot in our minds from the way it originally was supposed to be. Church often becomes a place, rather than a people, as Jesus treated it. It sometimes seem to become something we do to keep our good Christian status and image rather than a place where we build each other up and do life together, following Jesus.
I've had a lot of misconceptions about church but I've realized in the past year or so that church isn't always the people in your church. It isn't an activity. It's a people.
The church is described as the bride of Christ--He takes joy in us, and loves us. Husbands are told to love their wives as Christ loved the church.
"Husbands, love your wives, as Christ loved the church and gave himself up for her, that he might sanctify her, having cleansed her by the washing of water with the word, so that he might present the church to himself in splendor, without spot or wrinkle or any such thing, that she might be holy and without blemish."
-Ephesians 5:25-27
Christ didn't lay Himself down in love for a building, or an activity, or an idea. He loved a people. A people who believed what He said, took Him at His word, and laid down everything to spend their whole lives following Him.
Paul would write letters to God's church in Corinth, or the church in Ephesus, or in Philippi--and when we think in terms of today's churches, it's easy to envision that as a place where people met. But it wasn't. It was a group of people. Paul wrote to "all God's holy people in Christ Jesus at Philippi, together with the overseers and deacons." (Philippians 1:1). He wrote to "God's holy people in Ephesus, the faithful to Christ Jesus." (Ephesians 1:1). It was a group of people that were pursuing Jesus with all that was in them, their whole lives. They were a collective community of Jesus-followers, trying to do life God's way, together.
I think a lot of us have lost that. We come to church, we say hi, we sing songs, we sit in our seats and listen to the pastor, we say bye, and we leave and continue on with our lives for the week. That's not how it's supposed to be. Church is supposed to be a people that are in love with Jesus, totally and completely immersed in Him, faithful to Him, pursuing Him, together--sharing the joy found in the love of God, sharing our struggles and leaning on each other for support in the middle of them, teaching each other, helping each other, building each other up. That's what Paul emphasized in the church over and over and over again. And I get that that's hard. I'm an introvert. Believe me, I know. :) It can be hard to really get in there and get along with everyone, to really open yourself up and share things and be honest and open and vulnerable. And I think sometimes we get a little bit of a guilt trip put on ourselves when we don't do things with the church we're a part of. But one thing I've learned a lot lately is that church isn't always found in the people in your church. Do you know what I mean? If the church is the body of believers in Christ, then my best friends that live across the country, the ones that I have a Bible study with over FaceTime? They are my church, too. When I'm discussing stuff in my own faith and walk with Jesus with my parents? That's church. The friend that lives an hour away, who I only get to see every once in a while? When we get together and talk about life and Jesus and the problems we face and encourage each other, we're having that community that Jesus called on us to have.
Maybe for you, it's your closest friends that follow Jesus. Maybe it is your local church. Maybe it's some other followers of Jesus that you really admire--maybe you read their devotionals, listen to their music, watch their videos. Maybe it's someone you haven't met in person yet; someone that encourages you and that you encourage back through the wonderful use of technology. :) Maybe it's your family, those closest to you--your parents, brothers, sisters, grandparents.
The church is the body of believers, the faithful followers of Jesus, who stick together and pursue Him together, loving each other, teaching each other, and building each other up in Jesus. It's lovers of Jesus doing life together, doing everything they do in light of what Jesus said and did for us. The church is what Jesus laid His life down for. The church is what God loves and takes joy in. The church is the hands and feet of Jesus, the ones who are to show His love to the rest of the world; live out the love He's shown for us in our own lives. Is it hard? Yeah, it can be. But it's also beautiful. So go do church--whether it be in the local church building in your area, with your best friends, over email or phone, with family, or whatever. Get into the Word and chase after Jesus together.
********************************************************************************************************
God bless you guys and have a great week!
Joy :)