Hi, everyone! Hope you're doing well! :) We had a super busy weekend, hence the late post. :)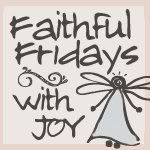 Faithful Fridays is a weekly linky party hosted on my blog. I made it so that Christians could have one special day out of the week (Friday) to share something from their walk with Jesus on their blog. If you'd like to participate,
write your post, grab the button from the Faithful Fridays page on my blog (so that it will link back here), and come link up at the bottom of this post! :)
***************************************************************************************************************
"Do you know that nothing you do in this life will ever matter, unless it is about loving God and loving the people He has made?"
-Francis Chan
I think sometimes we--I--get so wrapped up in what's going on in our own lives--whether it be pure busyness, or a struggle in our relationship with God, or stress, or whatever--that there's this one part of following Jesus that slips into the back of our minds. We forget to love our neighbor. We forget to love the least of these, those that are "overlooked or ignored" (Matthew 25:37-40 MSG).
And it's so, so easy to do that when the stuff in our lives is blown up and right up close to our faces. I do it all the time. It's so easy to just let it fade into the background when we're facing our own issues, trying to find our own peace.
"For even the Son of Man came not to be served but to serve and to give his life as a ransom for many."
-Mark 10:45
But I think what we're forgetting is that yes, to love and honor God is what we were created for. But a huge portion of that is loving others. Over and over and over again in the Bible, it emphasizes God's heart for the forgotten, the poor, the orphans, the widows, the overlooked, the ignored. And when Jesus came to earth, He spent most of His time teaching, healing, and loving those that fell between the cracks of society, the ones that were easy to forget. He spent time with the sinners, the seriously sick, the poor, the ordinary, and the ones that were just sort of average. He called them out of every situation they were in--to follow Him.
And if that's what Jesus, our Lord, our King, spent all of His time doing before He took on the cross--how can we not place immense importance on it? How can we leave that out or forget it? What kind of King does that? That's the kind of King I want to serve.
"Dear friends, let us continue to love one another, for love comes from God. Anyone who loves is a child of God and knows God. But anyone who does not love does not know God, for God is love. God showed how much he loved us by sending his one and only Son into the world so that we might have eternal life through him.
This is real love—not that we loved God, but that he loved us and sent his Son as a sacrifice to take away our sins.
Dear friends, since God loved us that much, we surely ought to love each other.
No one has ever seen God. But if we love each other, God lives in us, and his love is brought to full expression in us."
-1 John 4:7-12
We really know God, we really follow Jesus, when we put ourselves aside and pour out love into other people. As Francis Chan put it, "We are most alive when we are loving and actively giving of ourselves because we were made to do these things."
The sum of every single one of the Ten Commandments is to love God and love your neighbor. That's it. How can we expect to really know the God that IS love when we are so wrapped up in ourselves and our own worries and problems and struggles that we forget to actively love others, constantly, every day, the way Jesus did?
"Real religion, the kind that passes muster before God the Father, is this: Reach out to the homeless and loveless in their plight, and guard against corruption from the godless world."
-James 1:27
"Mercy to the needy is a loan to God, and God pays back those loans in full."
-Proverbs 19:17
"'Which ones?' the man asked. And Jesus replied, 'You must not murder. You must not commit adultery. You must not steal. You must not testify falsely. Honor your father and mother. Love your neighbor as yourself.' 'I've obeyed all these commandments,' the young man replied. 'What else must I do?' Jesus told him, 'If you want to be perfect, go and sell all your possessions and give the money to the poor, and you will have treasure in heaven. Then come, follow me.'"
-Matthew 19:18-21
Isn't that crazy? Jesus told the man to go sell his possessions and help the poor--and then to come and follow Him! That's how much it matters to Jesus.
"And if you spend yourselves in behalf of the hungry and satisfy the needs of the oppressed, then your light will rise in the darkness, and your night will become like the noonday. The Lord will guide you always; he will satisfy your needs in a sun-scorched land and will strengthen your frame. You will be like a well-watered garden, like a spring whose waters never fail."
-Isaiah 58:10-11
"If you stop your ears to the cries of the poor, your cries will go unheard, unanswered."
-Proverbs 21:13
"Whoever gives to the poor will lack nothing, but those who close their eyes to poverty will go cursed."
-Proverbs 28:27
"Never walk away from someone who deserves help; your hand is God's hand for that person. Don't tell your neighbor 'Maybe some other time' or 'Try me tomorrow' when the money's right there in your pocket. Don't figure ways of taking advantage of your neighbor when he's sitting there trusting and unsuspecting."
-Proverbs 3:27-29
"We know what real love is because Jesus gave up his life for us. So we also ought to give up our lives for our brothers and sisters. If someone has enough money to live well and sees a brother or sister in need but shows no compassion--how can God's love be in that person? Dear children, let's not merely say we love each other; let us show the truth by our actions. Our actions will show that we belong to the truth, so we will be confident when we stand before God. Even if we feel guilty, God is greater than our feelings, and he knows everything. Dear friends, if we don't feel guilty, we can come to God with bold confidence. And we will receive from him whatever we ask because we obey him and do the things that please him. And this is his commandment: We must believe in the name of his Son, Jesus Christ, and love one another, just as he commanded us. Those who obey God's commandments remain in fellowship with him, and he with them. And we know he lives in us because the Spirit he gave us lives in us."
-1 John 3:16-24
I don't know about you, but I don't want my cries to go unheard or unanswered, and I don't want to be cursed. I want my light to rise in the darkness and I desperately want the Lord to guide me always. I want the love of God to be in me, so I can be confident before Him.
I've decided that I can't let my current struggles and the worries in my life get in the way of Jesus' command to love others the way He loved me. I don't want to put it off for when times are better and it's easier. Jesus never said, "Love others when it's convenient," or "Love others when it's easy," or "Love others when you want to," or "Love others when your life is problem free and you don't have worries," or "Love others when your relationship with God is perfect." Those times may never come . The time is now. Yes, it will be hard. I don't instinctively want to put myself aside and focus on loving Jesus and loving others. But it's so worth it. I've seen it in action and I've been a part of it, and it takes work, but it's amazing, and it's the best possible way to live.
*********************************************************************************************
God bless you guys and have a great week!
Joy :)