Hi, everyone, and happy Friday! :) I'm really sorry I left you guys hanging last week. It was a busy weekend for me, and when I got on to write my post, our internet wasn't working, so I couldn't. :( But I'm back into the swing of things this week! :)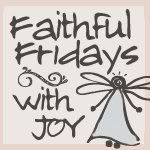 Faithful Fridays is a weekly linky party hosted on my blog. I made it so that Christians could have one special day out of the week (Friday) to share something from their walk with Jesus on their blog. If you'd like to participate,
write your post, grab the button from the Faithful Fridays page on my blog (so that it will link back here), and come link up at the bottom of this post! :)
*************************************************************************************************
"The Gospel is not just a declaration, it's an invitation. Invite someone."
-Louie Giglio
I think God's plan for us has always been partially a command, yes, of course--but also an invitation. He started out giving us a free will when He created. He knew that gave us the potential to turn against Him, but apparently He thought that it was worth it. As C.S. Lewis puts it, "Why, then, did God give them free will? Because free will, though it makes evil possible, is also the only thing that makes possible any love or goodness or joy worth having."
God loved us enough to not make us into robots that simply and mindlessly did His bidding because He said so, because He was the ruler. Because He is, and He should be obeyed--but He wanted us to do it out of love. He wanted us to be able to make our own choices, to choose Him over sin, so that we could actually really enjoy living in a relationship with Him. He made us in His image, with our own soul and mind and free will. Psalm 8:5-8 says, "You have made him a little lower than the heavenly beings and crowned him with glory and honor. You have given him dominion over the works of your hands; you have put all things under his feet, all sheep and oxen, and also the beasts of the field, the birds of the heavens, and the fish of the sea, whatever passes along the paths of the seas."
He valued us that much. He wanted to give us the freedom to choose Him--or not. But He did not want to force us into loving or choosing Him, even though He is life. If it was forced, it wouldn't be the true love or joy or peace that we experience when we give ourselves to Him.
And still, after the Fall, when Adam and Eve did their own thing and sin, rebellion against God, and separation from Him became ingrained into the human nature, Jesus came along. And the invitation of the Gospel was brought to a whole new level. Everywhere He went, Jesus simply invited people to follow Him. He would share truths straight from His Father God, teach, heal people, do the impossible, perform miracles, make God's way and word clear, fulfill prophecies from hundreds of years before--and then He would simply turn and say, "Follow me."
"One day as Jesus was walking along the shore of the sea of Galilee, he saw two brothers--Simon, also called Peter, and Andrew--throwing a net into the water, for they fished for a living. Jesus called out to them, 'Come, follow me, and I will show you how to fish for people!' And they left their nets at once and followed him. A little farther up the shore he saw two other brothers, James and John, sitting in a boat with their father, Zebedee, repairing their nets. And he called them to come, too. They immediately followed him, leaving their boat and their father behind."
-Matthew 4:18-22
"When the apostles returned, they told Jesus everything they had done. Then he slipped quietly away with them toward the town of Bethsaida. But the crowds found out where he was going, and they followed him. He welcomed them and taught them about the Kingdom of God, and he healed those who were sick."
-Luke 9:10-11
"Then Jesus went out to the lakeshore again and taught the crowds that were coming to him. As he walked along, he saw Levi son of Alphaeus sitting at his tax collector's booth. 'Follow me and be my disciple,' Jesus said to him. So Levi got up and followed him. Later, Levi invited Jesus and his disciples to his home as dinner guests, along with many tax collectors and other disreputable sinners. (There were many people of this kind among Jesus' followers.)"
-Mark 2:13-15
I can see Him, just standing there in front of the people, with that simple invitation. You know, there had to be something about Him when He spoke, something in His manner, or His words, or His eyes, maybe, that just penetrated people, the way His words do now. "Come, follow me!" He said it to people everywhere: those who seemed important, like the Jewish religious leaders, and those who seemed common. He invited those who seemed to be all cleaned up, and those whom society looked down on as scum, the "sinners." In fact, He seemed to like most to invite those kinds of people--the ones that you'd least expect to take Him up on it. And He didn't shame them, or force them, or scare them into it--He simply told them God's truth, offered real, lasting, eternal life, and the real, unfailing love and forgiveness of God, and then left them with the choice to take Him at His word and follow Him, or not.
And He still offers the same invitation today.
He offers the invitation to not only believe in Him, but believe Him. Romans 4 talks over and over again about how it wasn't anything that Abraham did that caused God to move and work in His life, to reveal Himself to him and guide Abraham in His plan for his life--it was because Abraham believed God. He took God at His word and trusted His promise. He is God, after all! He doesn't lie, and His word is the most trustworthy, solid foundation we could stand on. It's proven itself time after time. He never breaks His promises. He's faithful. And when we believe Him, and trust His promises and stand on His word, He starts moving in us and in our lives.
He invites us to try Him. He invites us to take a risk of faith, to give ourselves completely up to Him and watch what happens. When we embrace God, when we throw ourselves all in and take up our crosses and follow Him, surrendering ourselves completely to Him, embracing the life He has for us, we really experience Him and His kind of life to the fullest, like it says in John 10:10. And once you do experience it, you're never the same. Following Jesus is not easy. It's hard. It can be a struggle. Sometimes you don't think you're going to make it. But it's so, so worth it. And once you experience it, the old things will never be enough. A mundane life of holding back, settling for less, or sin, isn't enough. It won't satisfy. It won't do.
"Jesus said to her, 'Daughter, you took a risk of faith, and now you're healed and whole. Live well, live blessed! Be healed of your plague."
-Mark 5:34
But one thing that I've learned lately is that Jesus invites us in another way. He invites us into an intimate, loving, close relationship with Him, the God of the universe, the Creator, the King! He promises His presence. He promises to meet with us. He promises to draw near when we draw near to Him, to come when we seek Him, to show us marvelous and wondrous things that we could never figure out on our own (Jeremiah 33:3). That in itself is amazing--knowing God in that way produces pure joy!
He also invites us to the throne of God. Sometimes it seems like despite what God says about faith and freeing us from our sin, we're never going to be able to make it out. It feels like we're never going to be able to conquer the struggles. It feels hopeless. It feels scary. It feels like we're lost. It feels like we aren't going to be able to do what we have to do to keep following Him.
And that's where His mercy comes in. One thing that I've personally struggled with a lot, constantly, has been doubt. I doubt God a lot, and it's hard for me to just believe and take Him at His word and have faith. But I was reminded of something--Peter, one of Jesus' own disciples, is one of the biggest doubters I can think of in the Bible. I think a lot of people look at Peter and think he was just stupid--I mean, Jesus was right there, in person, in front of him, revealing Himself and God's mighty power to Peter and the rest of the disciples! Peter walked with Jesus! And yet he still doubted Him. I guess I can relate to Peter, because I can do the same thing--no matter how many times I see God work, and I see His word and promises prove true and solid and trustworthy, I still doubt Him. I don't know or understand why I do it, and it frustrates me to no end. But God understands me--He understands my doubts, and my thoughts, and my struggles, and He loves me the same--He still sacrificed His Son for me. In fact, just after Peter deliberately denied Jesus, though he knew the truth of who He was, and Jesus knew it all along. He knew that Peter would doubt Him and deny Him, but He loved Him still. And He walked straight on from Peter's doubt, denial, and spiritual weakness to the crucifixion, where He died for Peter's struggles--He suffered in anguish, died a gruesome death of being slowly, dryly drowned alive--literally! How amazing is His love for us?
I've been reading Isaiah 53, and it just wows me.
"But the fact is, it was our pains He carried-our disfigurements, all the things wrong with us. We thought he brought it on himself, that God was punishing him for his own failures. But it was our sin that did that to him, that ripped and tore and crushed Him--our sins! He took the punishment, and that made us whole. Through his bruises we get healed. We're all like sheep who've wandered off and gotten lost. We've all done our own thing, gone our own way. And God has piled all our sins, everything we've done wrong, on Him, on Him."
-Isaiah 53:4-6
This almost brings me to tears. Because it gives me relief. You and I don't have to worry about our fears, failures, struggling, doubts, sin, and wrestling. We don't have to feel hopeless. We don't have to hang it on ourselves, despairing that we might not make it to God because we're unable to have faith, or conquer temptation, or overcome a struggle in our life, or a spiritual weakness. Jesus already paid the price for our failures, and our struggles, and our pain, doubts, and wrestling, so that you and I could boldly approach His throne, not fearing or being in guilt, not stuck in hopeless circumstances or our own failures--that in coming to Him with our all, our best, our brokenness, we could receive grace and mercy and love and help and His power--His power that raised Jesus from the dead! We don't have to worry--Jesus already paid the price. Come to Him right in the middle of your struggles. Come to Him right in the middle of your trials and weaknesses and tests. Come to Him right in the middle of your doubts and wrestling. Come to Him right in the middle of your fears and uncertainty. He has set you free to come to Him for help! That's a reason to celebrate, right there.
"So the Lord must wait for you to come to him so he can show you his love and compassion. For the Lord is a faithful God. Blessed are those who wait for his help."
-Isaiah 30:18
He won't turn you away.
He won't fail you.
He wants you.
He loves you.
He wants to give you life.
He invites you.
*******************************************************************
God bless you guys and have a great weekend! :)
Joy :)