Hey, eveyone! I want to start out today by asking for prayer for my aunt Missy. She was admitted into the hospital on Tuesday with a small bleed on her brain--but it ended up being worse than they thought. My aunt's in critical condition, and she really needs prayers--for her and for her family. This is pretty rough and really scary for all of us. We're all in Alabama and we went to see her yesterday--she already seems to be doing better, thank the Lord! He's already answered a lot of prayers. She's been in an induced coma to get rest for her brain and her body, but tonight they started bringing her out of the coma, and she woke up and has her eyes open! They're unsure if she'll regain speech/motor skills--but we know God is a miracle-working God. So would you guys join us in praying for complete healing for my aunt and peace for the family? We appreciate it so much! :)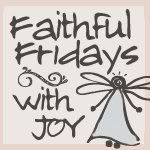 Faithful Fridays is a weekly linky party hosted on my blog. I made it so that Christians could have one special day out of the week (Friday) to share something from their walk with Jesus on their blog. If you'd like to participate,
write your post, grab the button from the Faithful Fridays page on my blog (so that it will link back here), and come link up at the bottom of this post! :)
*********************************************************************************
I think the idea of hope is sometimes twisted a little bit; undermined, underestimated, underrated. I think when most people think of it, they consider hope to be something you do against the circumstances, or a wish, or something that's slightly possible and keeps you going through hard times. I know that I'm guilty of thinking that way at times.
One definition of hope reads: "to want something to happen or be true and think that it could happen or be true."
But that's not what hope is as God defines it.
"Let us hold unswervingly to the hope we profess, for he who promised is faithful."
-Hebrews 10:23
"Rejoice in our confident hope. Be patient in trouble, and keep on praying."
-Romans 12:12
"Paul, a servant of God and an apostle of Jesus Christ to further the faith of God's elect and their knowledge of the truth that leads to godliness--in the hope of eternal life, which God, who does not lie, promised before the beginning of time,"
-Titus 1:1-2
"Yet this I call to mind and therefore I have hope: Because of the Lord's great love we are not consumed, for his compassions never fail. They are new every morning; great is your faithfulness."
-Lamentations 2:21-23
"And hope does not put us to shame, because God's love has been poured out into our hearts through the Holy Spirit, who has been given to us."
-Romans 5:5
"So God has given us both his promise and his oath. These two things are unchangeable because it is impossible for God to lie. Therefore, we who have fled to him for refuge can have great confidence as we hold to the hope that lies before us."
-Hebrews 6:18
"And if Christ had not been raised, then your faith is useless and you are still guilty of your sins. In that case, all who have died believing in Christ are lost! And if our hope in Christ is only for this life, we are more to be pitied than anyone in the world. But in fact, Christ has been raised from the dead. He is the first of a great harvest of all who have died."
-1 Corinthians 15:17-20
"He will not crush the weakest reed or put out a flickering candle. Finally he will cause justice to be victorious. And his name will be the hope of the world."
-Matthew 12:20-21
"Don't put your confidence in powerful people; there is no hope for you there. When they breathe their last, they return to the earth, and all their plans die with them. But joyful are those who have the God of Israel as their helper, whose hope is in the Lord their God. He made heaven and earth, the sea, and everything in them. He keeps every promise forever."
-Psalm 146:3-6
The hope God talks about and gives is not a wish, or a whim, or a distant possibility. It's a concrete, solid, promise. It's something we can proclaim with confidence, something we can stand on expectantly, something for which we can give thanks, something in which we can worship.
The hope God gives comes directly from Him; it's His word, His promise. And His word has proved itself trustworthy and true so many times, in so many ways.
The hope God gives was brought to life in Jesus; it was made touchable and seeable in Him. He didn't die; He lived! He worked miracles! And He paid the price for our ransom, forever. He conquered the separation between us and God; He brought that hope!

The hope God gives is a reality. It's real. His love is for real; His promises are for real; His word is for real. Stand on it. Live in it. Take joy in it.
*************************************************************************
God bless you guys and have a great weekend!
Joy :)