Hi, everyone! :) Sorry I'm a day late this week--we went out to see the movie God's Not Dead yesterday evening (which was really great--can't wait to share more about it with you guys). :)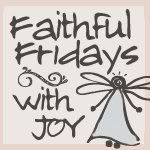 Faithful Fridays is a weekly linky party hosted on my blog. I made it so that Christians could have one special day out of the week (Friday) to share something from their Christian walk on their blog. If you'd like to participate,
write your post, grab the button from the Faithful Fridays page on my blog (so that it will link back here), and come link up at the bottom of this post! :)
***************************************************************************************************
I've been reading through a lot of the Psalms lately, and the other day I opened up my Amy Carmichael devotional, I Come Quietly to Meet You, and it was talking about selahs in the Psalms.
Have you ever been reading in Psalms, and you come across this point where David's working himself up, doubting God, questioning Him, complaining, and crying out from the depths of despair....and then he stops and you see the word Selah?
Selah means pause. It's like a breath in between something, a simple pause where you stop and think for just a second, and it would also stress the importance of what was just said. It was like a, "Okay, read that again. Then think about it."
"O Lord, I have so many enemies; so many are against me. So many are saying, 'God will never rescue him!'"
-Psalm 3:1-2
It's when the darkest times of doubt and fear and trouble came down on David, when everything came crashing in at once and he was completely overwhelmed and without hope that he cried out in raw, sometimes painful, honesty. And then, there was that Selah. That psalm continues:
"But you, O Lord, are a shield around me; you are my glory, the one who holds my head high. I cried out to the Lord, and he answered me from his holy mountain."
-Psalm 3:3-4
David turned his mind away from the darkness, from the sorrows, from the fears, from the doubts, and he paused. Then he looked up, and he said, "But you, Lord. You are a shield around me." Other translations say, "You are my helper."
Do you remember that account in the Bible of how Jesus walked on water, and then how Peter wanted to come out and walk with Him?
"Immediately Jesus made the disciples get into the boat and go on ahead of him to the other side, while he dismissed the crowd.
After he had dismissed them, he went up on a mountainside by himself to pray. Later that night, he was there alone,
and the boat was already a considerable distance from land, buffeted by the waves because the wind was against it.
Shortly before dawn Jesus went out to them, walking on the lake.
When the disciples saw him walking on the lake, they were terrified. 'It's a ghost," they said, and cried out in fear.
But Jesus immediately said to them: '

Take courage! It is I. Don't be afraid.' '
Lord, if it's you,' Peter replied, 'tell me to come to you on the water.'
'

Come,'
he said."
-Matthew 14:22-29a
Peter was taking a big step of faith right there. He was being bold in Jesus. He wanted to step out in faith and really experience Jesus, without holding back. And that's just the right attitude to have. It's awesome.
Then Peter got down out of the boat, walked on the water and came toward Jesus.
But when he saw the wind, he was afraid and, beginning to sink, cried out, 'Lord, save me!'
Immediately Jesus reached out his hand and caught him. '

You of little faith,'

he said, '

why did you doubt?'
And when they climbed into the boat, the wind died down.
Then those who were in the boat worshiped him, saying, 'Truly you are the Son of God.'"
-Matthew 14:29b-33
But then he got out in those waves, and he became afraid. He started sinking, because he put his mind on the difficulties, on the storm around him, instead of keeping it on the power, strength, and love of Jesus in front of him. That love of Jesus, that power and strength that we find in His love, is enough. It's more than enough. The God of the universe, the mighty Creator of all things, who sustains all things, loves us with a mighty, fearsome, powerful love that takes action, and yet we still let ourselves worry and get tied up in anxiety--we still take our eyes off His love for us and put them on our troubles and our battles and on the lies the enemy is feeding to us, that we're lost and hopeless and this darkness is too much. And that's when we start sinking.
"If your eyes are on the storm, you'll wonder if I love you still. If your eyes are on the cross, you'll know I always have and I always will."
-"Just be Held" by Casting Crowns
That's where I think we can learn a lot from David. Because sometimes, we will take our eyes off His love for us. David did that, too, and that's when he would belt out a verse that was something to the effect of, "Look at all this stuff! I can't do this! I'm dead! I'm a goner! There's no point! I'm all alone! It's hopeless!" Emotions run wild sometimes, and we do that. But then he would stop a moment and take that Selah.
Did you know that Selah is also considered by some to signify a sudden outburst of instruments? So it was like David would find himself in that pit of darkness, and then he would pause, look up, remind himself of Who was protecting him, and burst into songs of praise. It was like he was slapping the devil in the face while he was in the middle of yelling at David. David was choosing joy right smack dab in the middle of his deepest, darkest moments, because He turned his mind away from the darkness, away from the emotions, away from the sorrows and the shadows and the doubts, and he reminded himself of the truth of who God is and how He loves us, and what that means for us. It means we don't need to fear anything. It's a choice David continually made--he reminded himself that GOD was his helper.
May we do the same.
"Such love has no fear, because perfect love expels all fear. If we are afraid, it is for fear of punishment, and this shows that we have not fully experienced his perfect love."
-1 John 4:18
****************************************************************************
God bless you guys and have a great weekend! :)
Joy :)