Hi, there! :) Friday has rolled back around again! I'm really starting to wonder if Disney jinxed America when it put out the movie Frozen. It was in the 60's last Saturday, and the very next day, Sunday, we had a big ice and snow storm and our power went out for a couple of days! And in the south, too! Craziness. I'm ready for spring! :)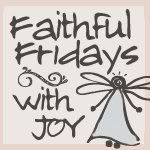 Faithful Fridays is a weekly linky party hosted on my blog. I made it so that Christians could have one special day out of the week (Friday) to share something from their Christian walk on their blog. If you'd like to participate,
write your post, grab the button from the Faithful Fridays page on my blog (so that it will link back here), and come link up at the bottom of this post! :)
*****************************************************************************************************
Joy. It's a funny thing. I don't think it's the same thing as happiness. No, joy is more of the kind of thing that's deep, the thing that you have even when times are tough.
But here's the thing: I used to think that joy just kind of came naturally when you had Jesus, even during hard times and struggles. But I've discovered that it's something that you sometimes have to fight for.
It doesn't always come easy. Because obviously, when something hard hits and my emotions are running wild, my first instinct is not to have joy, is it? It doesn't just happen. We have to choose it.
"A sound mind makes for a robust body, but runaway emotions corrode the bones."
-Proverbs 14:30
And I know you've probably heard that quite a bit before--that happiness is a choice. But it's not just that. Joy is something that you choose to seek out and fight for. You do that by seeking Jesus, by going through His word and His promises to you and realizing that you have reason to have joy!
You find joy by stepping outside of yourself, even in your hard times, and loving others.
Have you ever spent time at a nursing home, or maybe with some little kids, or really just helping out anyone that can't repay you? It tends to bring joy. There's just something about not putting yourself first that makes you realize that it's not all about you! And that really puts things into perspective.
One time I met this lady who worked at Walmart and whose name was Joy. I said hi and told her my name was also Joy, and she told me what "joy" really is:
J - esus first
O - thers second
Y - ourself last.
And that is SO true! When we start putting things in the right order and fighting for our joy, we start finding it--first by seeking Jesus and His love and what it means for us; bringing it all to Him and laying it down at His feet, and letting our minds rest in Him, letting His peace come cover us.
"So letting your sinful nature control your mind leads to death. But letting the Spirit control your mind leads to life and peace."
-Romans 8:6
And then by taking a step forward, putting ourselves aside, and extending that love to others without expecting anything in return.
The Bible has a lot to say about joy. The big things that stick out to me are that one, the Bible acknowledges in so many ways that joy is something that you usually have to choose, and often have to fight for.
"Dear brothers and sisters, when troubles come your way, consider it an opportunity for great joy. For you know that when your faith is tested, your endurance has a chance to grow. So let it grow, for when your endurance is fully developed, you will be perfect and complete, needing nothing."
-James 1:2-4
"A cheerful heart is good medicine, but a crushed spirit dries up the bones."
-Proverbs 17:22
The way the Bible talks about joy shows us that it's a choice--because it tells us that yes, when we follow Jesus, and when we simply live life, we will face troubles and trials and hardships. But it's up to US to make the best out of them and to choose to fight for joy and a cheerful heart in the middle of that! And maybe that sounds a little cliche, but if you want to have joy, it's the truth. Proverbs is filled with words of wisdom and advice from one of the wisest men ever--because God gave him that wisdom. And it tells us that a cheerful heart is good medicine. I don't know about you, but that sounds an awful lot to me like it's something we choose to do or not do, to have or not to have. You can choose to let your default feelings rule you, or fight for joy despite your feelings. And choosing to seek out joy seems to be the better option--it draws us closer to Jesus, makes us and those around us happier, and is good for our bodies--a crushed spirit dries up the bones and runaway emotions corrode the bones.
The Bible also gives us tons of verses of hope, verses of reasons for us to have that joy in Jesus.
"The righteous person faces many troubles, but the Lord comes to the rescue each time."
-Psalms 34:19
"Those who sow in tears will reap with songs of joy."
-Psalm 126:5
"No, in all these things we are more than conquerors through him who loved us."
-Romans 8:37
"Three different times I begged the Lord to take it away. Each time he said, 'My grace is all you need. My power works best in weakness.' So now I am glad to boast about my weaknesses, so that the power of Christ can work through me. That's why I take pleasure in my weaknesses, and in the insults, hardships, persecutions, and troubles that I suffer for Christ. For when I am weak, then I am strong."
-2 Corintians 12:8-10
"What shall we say about such wonderful things as these? If God is for us, who can ever be against us? Since he did not spare even his own Son but gave him up for us all, won't he also give us everything else? Who then will condemn us? No one--for Christ Jesus died for us and was raised to life for us, and he is sitting in the place of honor at God's right hand, pleading for us. Can anything ever separate us from Christ's love? Does it mean he no longer loves us if we have trouble or calamity, or are persecuted, or hungry, or destitute, or in danger, or threatened with death? And I am convinced that nothing can ever separate us from God's love. Neither death nor life, neither angels nor demons, neither our fears today nor our worries about tomorrow--not even the powers of hell can separate us from God's love. No power in the sky above or in the earth below--indeed, nothing in all creation will ever be able to separate us from the love of God that is revealed in Christ Jesus our Lord."
Romans 8:31-32, 34-35, 38-39
"You love him even though you have never seen him. Though you do not see him now, you trust him; and you rejoice with a glorious, inexpressible joy. The reward for trusting him will be the salvation of your souls."
-1 Peter 1:8-9
There it is. When we trust Jesus and stop worrying, when we give it up to Him and lay it all out before Him, we can get that joy. We can find it and fight for it, because we have this assurance. I love it.
"Therefore, since we are surrounded by such a great cloud of witnesses, let us throw off everything that hinders and the sin that so easily entangles. And let us run with perseverance the race marked out for us, fixing our eyes on Jesus, the pioneer and perfecter of faith. For the joy set before him he endured the cross, scorning its shame, and sat down at the right hand of the throne of God."
-Hebrews 12:1-2
*************************************************************************
God bless you guys and have a fantastic weekend! :)