Hello, there, everyone! :) I'm back after missing a week of Faithful Friday--again, sorry about that! :)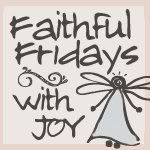 Faithful Fridays is a weekly linky party hosted on my blog. I made it so that Christians could have one special day out of the week (Friday) to share something from their Christian walk on their blog. If you'd like to participate,
write your post, grab the button from the Faithful Fridays page on my blog (so that it will link back here), and come link up at the bottom of this post! :)
***********************************************************************
If you've grown up as a Christian, you've probably heard a lot about how bad company corrupts good character and we have to keep ourselves set apart from the things of this world.
And that's completely true! We do have to be careful. We don't want to be careless with what we feed in to our minds. Who we hang out with does affect our mind and we have to keep our guard up.
Most of us shy away from the "weird" people. The ones that have a bad reputation or look like trouble or fit all the criteria of "one of those people," an "outsider."
I do this. It's much easier to just scoot away and not talk to these people rather than reach out of our comfort zone and be the way Jesus was.
But easy and comfortable is not what we're called to be. Jesus was perfect; He didn't sin, so obviously when He hung out with "sinners," He didn't have to struggle with temptation. But because Adam and Eve sinned, we have that temptation. Does this mean that we should just live in our own little righteous bubbles and not reach out and make any kind of difference? Noooo.
Do we really feel like we have a choice? Really? Because I think the Bible is pretty clear. Love your neighbor as yourself. Your neighbor is everyone. Your neighbor is your mom, your dad, your sibling. Your neighbor is your best friend. And your neighbor is also that weird girl that no one talks to and that one kid that just gets on your last nerve. Your neighbor is your rival and that one girl that is just plain mean.
"

While Jesus was having dinner at Matthew's house, many tax collectors and sinners came and ate with him and his disciples.

When the Pharisees saw this, they asked his disciples, 'Why does your teacher eat with tax collectors and sinners?'"
-Matthew 9:10-11
Jesus dined and sat and talked with sinners and "tax collectors." Ouch. Tax collectors were the guys that everybody hated. They were rotten, lying, cheating scoundrels that not only gathered up taxes from the people for the government, but stole extra for themselves. The Pharisees looked at these people with scorn and disdain. Jesus treated them like normal people and loved them.
Now days, we have our own sort of "tax collectors." Whether it be based off of appearances--baggy pants, piercings, tattoos, all black clothes--or the people that have a reputation for being disruptive, disrespectful, or just bad kids. There's this group of people that we just shy away from.
But we don't get to choose who to love. Jesus has been clear--we are to love everyone. Our family, our friends, our enemies, and everything in between.
So how do we handle this situation? We go into it with the mindset of being Jesus' hands and feet. That's the mindset we're supposed to have with everything, anyway. We aren't to join people when they start doing or saying things that aren't godly, but we aren't supposed to judge or reject them, either.
"Let your conversation be always full of grace, seasoned with salt, so that you may know how to answer everyone."
-Colossians 4:6
So yes, bad company can corrupt good character. But maybe good company can corrupt bad character?
********************************************************
God bless you guys and have a great day. :)
Joy :)