Hi, everyone! :) I'm sorry that today's Faithful Friday post is late--we had friends over yesterday and I never got around to writing my post. But I'm here today! :)
Remember me mentioning that my computer was down? It's fixed! Thank You, Jesus! Time to get back to writing and blogging regularly. :)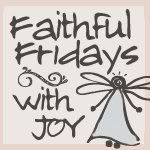 Faithful Fridays is a weekly linky party hosted on my blog. I made it so that Christians could have one special day out of the week (Friday) to share something from their Christian walk on their blog. If you'd like to participate,
write your post, grab the button from the Faithful Fridays page on my blog (so that it will link back here), and come link up at the bottom of this post! :)
**************************************************************************
I think a lot of us want to feel special. We want to feel unique. We want to shine.
And people encourage us to do that, right? You can't watch Disney Channel for thirty minutes without hearing a repetition of "be yourself," "shine," "be original," and on and on.
But in that, I think we lost sight of our true identity. Our identity is not in ourselves, it's in Jesus and how He's redeemed us. Outside of that, we are nothing. And when we get so wrapped up in ourselves, we forget that. We get so focused on shining in our own light that we completely miss the point of our lives!
A beautiful sight on the way home. :)
The reason for our very existence is to glorify and worship Jesus. To shine for Him.
Don't shine so others can see you. Shine so that through you, others can see Him.
-C.S Lewis
Be a lantern and let God put His light in You to shine before others. He's given you this salvation and faith....why hide it?
In the same way, let your light shine before others, that they may see your good deeds and glorify your Father in heaven.
-Matthew 5:16
God bless you guys and have a great day! Thanks for stopping by! :)
Joy :)