Hey, everyone! Time for Faithful Friday. :)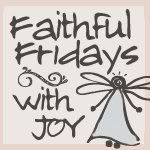 Faithful Fridays is a weekly "meme" hosted on my blog. I made it so that Christians would have a designated day (Friday) to share something from their Christian walk on their blog. If you'd like to participate, write your post, grab the Faithful Friday button from my "Faithful Friday" page, and come link up at the bottom of this post! :)
***********************************************************************
Have you ever just had a plain out bad day? Okay, of course you have. You know, everything goes wrong. You're grumpy, you keep tripping over stuff and hurting yourself, you yell at everyone and say things you regret, you forget things, you don't feel pretty enough or good enough, you're tired, you're late, the list goes on and on.
Yeah. We all have those days. I mean, sometimes it feels like every day is just another battle. You get up, you go through the motions, have good moments, have not good moments (and it seems like there's more of those), and then by bedtime you're so exhausted, you just fall into bed. And then you get up and repeat.
Another day, another fight
It always feels like an uphill climb
Another step, another mile
The story of your life
It's harder than you ever thought
And it costs you everything you've got
When you're back against the wall
And you feel like giving up
This is only a mountain
You don't have to find your way around it
Tell it to move, it'll move
Tell it to fall, it'll fall
This is only a moment
You don't have to let your fear control it
Tell it to move, it'll move
Tell it to fall, it'll fall
-"Only a Mountain" by Jason Castro
But you know what? Something always makes me get up in the morning. I want to get up in the morning. Every morning. I do believe it's Jesus, folks.
But how can we start our days off right?
Picture via Pinterest.
I have a little routine now. :)
Stumble out of bed. Throw your hair out of your face, look into the closest mirror, and smile. Try to smile really well. This will get you awake and (literally) give you something to smile about. :) Say hello to God, say hello to yourself. Quickly splash some water on your face. Just get awake and smiling.
Now. Get down on your knees and pray! Yes, down on your knees, or on your face. Just pray. My prayer usually goes something like this:
God, please help me to focus on You and You alone today. Please guide me, lead me, protect me, and care for me. Give me opportunities to serve You and serve others and love You and love others, and help me to see those opportunities and seize them. Help me to do well in ____ (school, work). Help me not to have an attitude or get grumpy. Help me to be a God Girl! God, You are my everything.
Love you,
Amen.
Start your day off with a smile and a prayer. See if it helps. Reading your Bible in the morning is also a good thing to do. Not that I'm an early riser, because I'm really not. It generally takes me a while to wake up, but I'm hoping this little "system" helps with that. :) I think it's beautiful to wake up early enough to see the sunrise. Such a wonderful thing.
In the same way, pray before going to bed. It doesn't have to be long. Just get down on you r knees and say a prayer. Thank God for the day you had and ask Him to give you a good next day.
What if you're having a bad day already? What if things just don't go right from the start?
Look for the silver lining in every cloud.
Try to find something good--something to look forward to--in every day.
Ask God for guidance. Try to look for only the good things in your day rather than the bad things.
God can turn your day around!
Well Ya, took my day and You flipped it around
Calmed the tidal wave and put my feet on the ground
Forever in my heart, always on my mind
It's crazy how I think about You all of the time
And just when I think I'm bout to figure You out
You make me wanna sing and shout
Oo, I love the way You hold me, by my side You'll always be
You take each and everyday, make it special in some way
I love the way You hold me, in Your arms i'll always be
You take each and everyday, make it special in some way
I love You more than the words in my brain can express
I can't imagine even loving You less
Lord, I love the way You hold me
-"Hold Me" by Jamie Grace
So anyway, I hope you guys have a good day. :)
God bless!
Joy :)