Hi everyone! It's Friday again! :)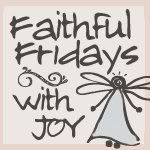 Faithful Fridays is a weekly "meme" hosted on my blog. I made it so that Christians would have a designated day (Friday) to share something from their Christian walk on their blog. If you'd like to participate, grab the button above, write your post, and then come link up at the bottom of this post! :)
Today, I'm kind of going...well...off the deep end. No, I'm not going crazy. I'm just sitting down and letting the words flow with not much of an idea of where they'll go.
But, I mean, seriously. Isn't that part of the fun of writing?
*******
Alright, ladies. Let's get honest.
We are GIRLS.
We daydream about our prince.
We fantasize about being swept off our feet.
Some of us a little more than others, yes, but even the best of us who claim to detest romance indulge in a little daydreaming every once in a while.
And while a little daydreaming may seem harmless...girls, we have to be careful.
One of our pastors, Alex, was teaching on guarding your heart a few Sundays ago. He said, "Whatever you think about, you'll do." And then he said, "Think about that (no pun intended)."
Whatever you think about, you'll do.
We have to be careful that we don't jeopardize our own purity (emotional and physical) with these thoughts. A little is understandable, but we have to have limits.
You'll know when you need to stop. Because God will reach down there and prod your heart. We may not want to listen to Him when He does, but we have the choice.
Purity.
What is it?
Why should we do it?
Purity is so many things. It's doing your best to stay clean and blameless before God (this does not mean that we're supposed to be perfect, because we're not. Only God is perfect. We're expected to do our best and ask His forgiveness when we fail). It's saving yourself for your future husband.
It's hard.
Being a girl is complicated! No, you guys out there, you have no idea how hard it is to be a girl. No idea.
It's even harder to be a teenage girl.
And it's amazingly hard to be a Christian teenage girl.
But you know what?
We have Someone on our side.
Protecting our purity and guarding our hearts can make us want to scream.
It can feel like a war.
It's hard, and it's messy, but at the end of the day, it's more worth it than anything you could ever imagine.
So, girls and guys, I'm asking you today to guard your hearts, protect your purity, and remember that even in the hardest times when you feel like kicking everything you see...
God is there.