Hey everyone! It's Friday! :)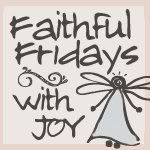 Faithful Fridays is a weekly "meme" hosted on my blog. I made it so that Christians would have a designated day (Friday) to share something from their Christian walk on their blog. If you'd like to participate, grab the button above, write your post, and link up at the bottom of this post! :)
*****************
I LOVE music. Some of my happiest times are just riding in the car with my mama, and, as I put it...jamming. :P
I thought I'd show you guys some encouraging, fun Christian songs.
First is "Should've Been Me" by Citizen Way. I LOVE this song. So much. The first few times I saw it, the lyrics just hit me like a brick.
Next is "Me Without You" by TobyMac. :) This is a super fun song with great lyrics.
This next one is "Healing Begins" by Tenth Avenue North. This song and the music video are powerful. Gives me chill bumps (especially since I've seen the movie the clips are from, "The Grace Card"). And isn't the lead singer's voice neat? :)
And this one is "Your Hands" by JJ Heller. LOVE this song. JJ's voice is beautiful.
And this is also by JJ Heller. It's called "What Love Really Means." Makes me want to cry!
And this one is by Brandon Heath. It's called "I'm Not Who I Was." It made me think of
Isabelle
, as she is a big Brandon Heath fan. :)
And this one is "More Beautiful You" by Johnny Diaz. Girls, watch this. 'Nuff said.
And last, but not least, is "City Bus Love Song" by NewWorldSon. I like the words, and NewWorldSon's style of music is so fun. :)
That's it for today! Hope you enjoyed. :)
Have a great day and God bless!
Love,
Joy :)