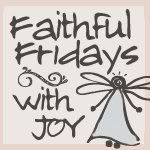 Faithful Fridays is a weekly "meme" hosted on my blog. I made it so that Christians would have a designated day (Friday) to share something from their Christian walk on their blog. If you'd like to participate, grab the button above, write your post, and then come link up at the bottom of this post! :)
Have you ever seen a child ambush their father as he arrives home from work? I'm sure we've done it ourselves. He opens the door, perhaps calling out, "I'm home!" The child runs into his father's arms. He begins spilling out his thoughts over the day, chattering and chattering, following his father wherever he goes, explaining what's happened throughout the day. And finally, as his father takes a seat in his favorite chair, he falls into his lap, cuddling close.
Sometimes, I feel like that child. I lay down at night, and I begin spilling out my thoughts and requests to God. I fall into his arms, and it feels good. It's peaceful.
There's this line in the song Stronger by Mandisa. Mama and I love it--she says it gives her chill bumps. :)
Try and do the best you can
Hold on and let Him hold your hand
And go on and fall into the arms of Jesus
Fall into the arms of Jesus. I love that. :)
So today, friends, if you're feeling stressed, or angry, or sad, or afraid, fall into the arms of Jesus. He'll always be there.